Fat Jaks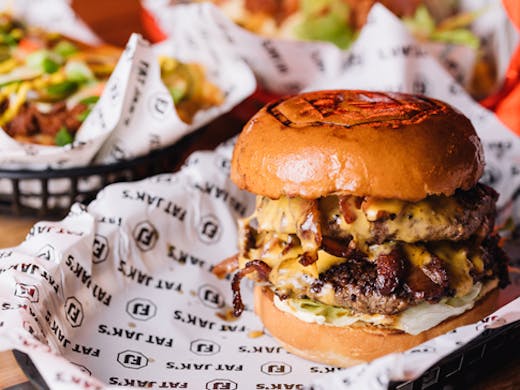 The Verdict
Every good Melbournian needs a Burger Bucket List: a handwritten scroll that chronicles all the ridiculous triple stacks, fried chicken breasts and unnecessary croquette-stuffed monsters to eat before we die (let's face it, probably of some sort of cheese-related illness). Well hold on to your napkins, because we just found a brand new Nashville-style burger bar in St Kilda, and it's an absolute ripper.
Fat Jaks doesn't even try to appeal to your health-conscious inner angel. There's a 'Skinny Jaks Salads' section on the menu, but it's squished down in the bottom-left corner like an embarrassing relative (and one of the salads comes covered in prosciutto, Caesar dressing and eggs, so you know...diet goals). Burgers are the main event here, and they deliver big time.
Owner Rich Slade brands each bun with a big, black FJ, as if your burger literally just moo'd its way off the farm and onto your plate. The milk buns are soft and yielding, the patties sizzled to perfection. If beef is your thing, start with the Fat Jak: two 170g free-range Aussie beef patties, double cheese, double bacon (fried dark and crispy), shredded lettuce, pickles and a Big Mac-esque sauce. It's greasy, guilt-ridden happiness on a plate.
Any burger-lover knows that sides maketh or breaketh the meal, and Fat Jaks doesn't disappoint. It's got a massive list of burger accompaniments: everything from truffled mac n' cheese to deep-fried pickles and loaded fries. The crowning glory is the home-made soft drinks, available from a classy wall dispenser: $4 gets you a paper cup, a shovel-worth of ice and (wait for it) all you can drink! House-made bottomless orange crush? Just take our freakin' money.
Image credit: Griffin Simm
---