Fauna Yoga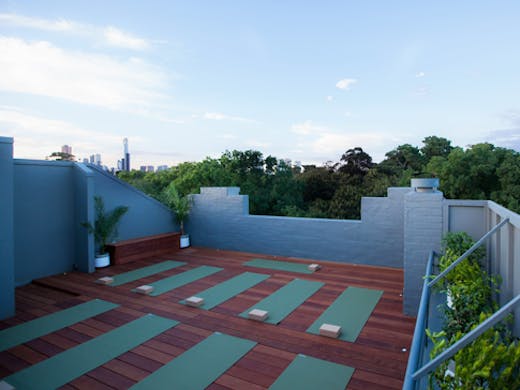 The Verdict
A contender for 'Best Looking Yoga Studio In Melbourne'? Yeah, we're calling it.
Fauna Yoga is the city's first ever tree-top yoga centre. That doesn't mean you have to Child's Pose on a branch like an animal—it means you can greet the dawn sun with a view over the treetops of the Botanic Gardens. Fresh air all around. The sound of the wind through the branches. An expert trainer and a small group size of just 12 tree-loving yoga buddies. The way nature intended.
Fauna has a downstairs studio space as well (kind of like the middle level of a treehouse—all that's missing if the big 'No Homers' sign), which is decked out in your standard Zen-powered blend of minimal white walls and soothing blonde timber. They're running a bunch of different classes, depending on your yoga style. Maybe some mellow slow flow for when work's getting you down, or a jazzed up Vinyasa session to pick things up on a Saturday morning.
"With four styles of classes offered, the 'Fauna Flow' is set to be our most popular
having a Vinyasa base with varied sequences and a good balance of relaxing yin and strengthening yang," says co-owner Hugues de Robillard.
There's also pregnancy and post-natal yoga sessions, plus private group classes (if you reckon your workplace could do with some tree-top relaxation).
Because of the smaller class size, you get a more personalised yoga experience. It also means there's nowhere to hide if your Downward Dog hips are all out of whack. Check out the online calendar if you want to see the upcoming classes. Fair warning though—those tree-top sessions are gonna book out mega quick.
Image credit: Fauna Yoga
---