Fledgling Espresso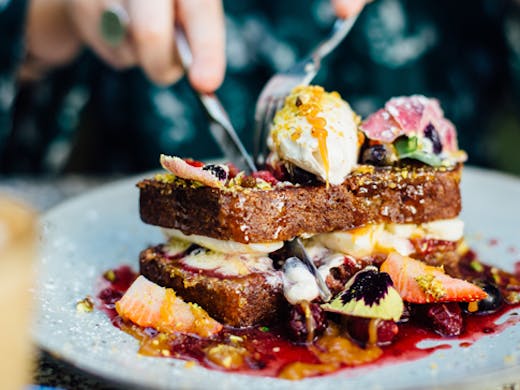 The Verdict
Connor Cunliffe is only 23 years old.
A small part of us hates him for his youth, but mostly we just love his new cafe: Fledgling Espresso. Putting our bitter ageism to one side, Fledgeling is a venue that seriously deserves your hard-earned brunch dollars. The food is that damned good.
We know it's easy to overhype brekky dishes in this town, but just sit down in the button-cute courtyard out back, sun filtering through the trees, and tuck into a plate of the slow-roasted mushrooms with thyme, garlic, chilli cashew cream, poached egg, dukkha crumb and a quenelle of labne. Sweet Jesus, that is a plate of food. Hands down one of the best things we've eaten in 2018 (we know it's only April, but we eat A LOT).
Connor cut his teeth as a barista with Julien Moussi at Penta, and you get that contemporary, cutting-edge feel at Fledgling. But like the name suggests, this is Connor's first go at his own digs—which is why it feels homely too. Funky, but adorable at the same time. That might have something to do with Connor's mum, who not only handles a lot of the admin, but helped design the menu (good on ya, Mum).
And speaking of menu...day-um. There are some delicious things on this piece of paper.
Sweet tooths, head straight for the banana French toast with berry compote, pistachio praline, salted caramel and cinnamon mascarpone. The lemon curd pancakes are also a gift from the heavens. Round it out with coffee from Inglewood and pastries from Noisette (including some wicked Portugues custard tarts), and we've found our new happy place.
Carlton locals will remember this as the old Extension Of Time: a faithful old cafe, but a little past its prime. It's great to see a young barista and hospo fledgling spreading his wings, and if this is anything to go by, we'll be hearing his name A LOT over the next few years.
Image credit: Annika Kafcaloudis
---
You May Also Like
Food & Drink
Melbourne, VIC
Fans of flavour and seafood feasts, listen up. Louisiana-style Crawfish sensation,…