FLOC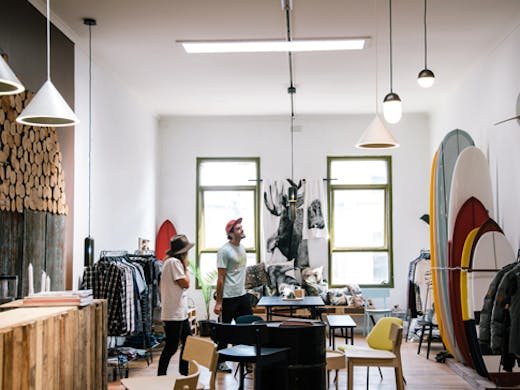 The Verdict
Describing themselves as a coastal concept store, FLOC is bringing modern beach homewares and fashion to Melbourne's inner suburbs. 'Bout time, right?
You know they're gonna nail it too, considering they started in surf-crazy Torquay and Avoca Beach. Their new digs on Smith St is their only bricks and mortar store in town, and you'll find everything from furniture, clothing and homewares to surfboards on display. All in excellent, Scandi-mod taste. It's as if Billabong and Cereal magazine had a retail baby.
If surfing really is your thing, make sure to check out FLOC's hand-shaped surfboards, courtesy of Californian brand, Almond. City slickers will enjoy the sporty chic clothing in both men's and women's styles—personally, we're crushing on the outwear range. Complete your coastal transformation with functional and quality homewares by WOUD. Get coastal in store weekdays or by appointment only on Saturday.
Image credit: Jess Prince
---