Flos Botanical Studios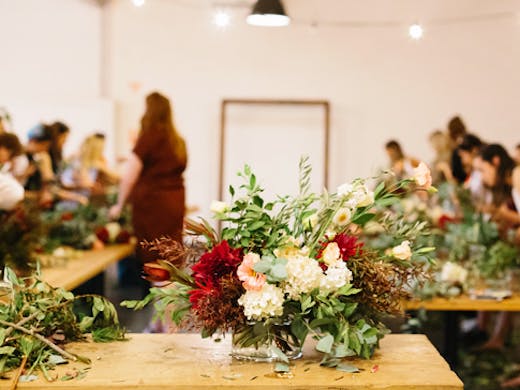 The Verdict
It's really hard to find justtttt the right flowers for an event. Like, how are we supposed to pick between deep red roses or brightly coloured daisies? And does it really matter? (Yes, actually it does.) Seriously, the struggle to be a functioning adult is very real.
Lucky for us, Flos Botanical Studios is here to make all of our floral dreams come true. Expert florist Vivian Hollingsworth uses her Fine Arts degree to intricately weave together most Instaworthy flower bouquets and installations that you've ever seen. Even better? Shes teaches you to do it too.
Hollingsworth uses seasonal, artisan blooms from around Melbourne (because it's all about going local) while educating her customers on provenance and floristry techniques through in-store workshops. She's created a rep for herself as the unofficial floral queen of Melbourne, snagging gigs at Melbourne Fashion Week, Westfield and Radical Yes, among others.
Flos Botanical Studios have all your floral needs pretty much covered. They host creative design workshops, where you can learn the art of flower arranging, sell epic bouquets for special occasions, and wearable flower crowns (hellooo Coachella), plus photoshoots for that wedding you're totally stressing over. You can even buy floral tote bags, sewn by Vivien's own Aunty #adorz.
This place is super popular, so be sure to make an order or book ahead for a class spot.
Image credit: Flos Botanical Studios
---