Fluff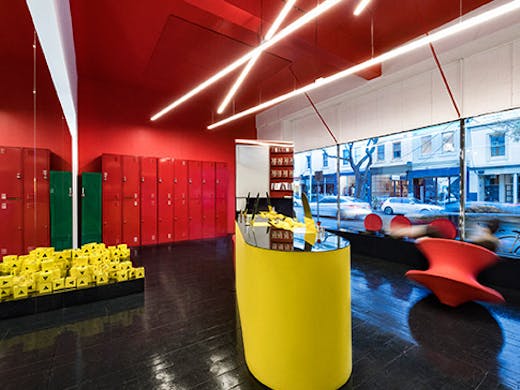 The Verdict
You might have spotted something weird on Gertrude St lately.
From the outside, it looks like a Tate Modern exhibition: a cavernous, high-ceilinged warehouse, splashed with red paint and neon lights. A giant spinning top sits in the corner, and what looks like a blue vending machine? What even is this place?
This, believe it or not, is Melbourne's new cosmetics concept store, and the new HQ for Fluff—a local, sustainable make-up brand from one of Frank Body's co-founders, Erika Geraerts.
"I left Frank about two-and-a-half years ago," Erica says. "I wanted to create a brand that actually talked to its audience, an Aussie brand that cared about its customers and was doing some cool shit. Which is why we've built this space."
Fluff has a very select range at the moment: a light bronzing powder (which sits in a sleek, silver capsule like some alien compact), and a red-stained kabuki makeup brush. That's it so far. Erika is pretty adamant about only bringing products on-board when they meet her high standards (and when she would actually use them herself).
"Most makeup brands I see in MECCA, I don't know who started them, I don't know what they stand for," she says. "They just push hundreds of products on people. We wanted to be different."
The Fluff store isn't just a place you can come can grab bronzer. It's a concept event space. The idea is that women can come and just be. They can chat about cosmetics, meet other fans of the brand, ask questions and listen to interesting guest speakers. Erika's got a whole program of pop-ups and workshops planned, which will be rolling out over the next month or two.
You can also get Fluff merch here. At the moment there's a range of custom Magic 8-Balls and safety matches, but soon the guys will stock Fluff t-shirts, Fluff beanies and Fluff reusable bags. It's like a brand just manifested into space.
At the moment, Fluff is open on Thursday and Friday evenings, and anyone's invited to come down and hang. Keep an eye on the brand's social pages for news about any upcoming events.
Image credit: Fluff
---