Franco-Belge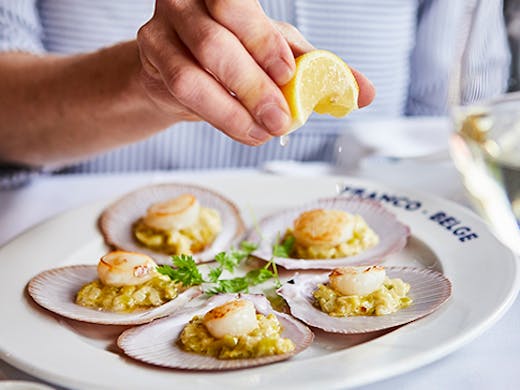 The Verdict
What do you get when you take two France-Soir alumns, one beautiful brasserie and a lot of butter? You get Franco-Belge—Camberwell's classy new French-Belgian bistro.
We stumbled on this one in Evans Place—that little restaurant strip between Rivoli Cinema and the big carpark behind Burke Rd. It used to be the old Monk & Me Malaysian joint, but we've travelled about 10,000km west for Franco Belge. This place is wall to wall white tablecloths, smooth jazz and dark timer bar stools. It smells of garlic and steak and the slosh of good red wine in the pan. We loved it immediately.
Franco-Belge is the brainchild of a hospo quartet: husband and wife team Fred and Angela Gabriels, plus Sebastien Cigalon and Michelle Oxnam. Fred and Sebastien have worked at France Soir in South Yarra for yonks, but they always dreamed of opening a little bijoux brasserie of their own. This is the result.
"The menu if mostly French," says Belgian-born Fred, "but with a Belgian influence. These cuisines are very seasonal, very regional. The food often crosses the border."
The menu's the kind that makes you wish you had a bigger group—then you could order one of everything. There's classic steak tartare, a blushing pink salmon gravlax with horseradish cream and traditional Belgian beer snacks like Garnalen Kroketten: prawn croquettes based on a recipe from Freddie's mum.
But most Franco-Belge first-timers will gravitate to two things: either the steak and pommes frites, or the famous moules frites (another Belgian classic). Let's start with the steak, you can pick from three different cuts, including a monster 800g Rib Eye for two (Sebastien cuts it for serving, don't worry). Pick your sauce (the Bernaise and the Café de Paris are our picks) and you're in heaven.
For the real Franco-Belge experience though, try the Moules Frites. This is Belgian cooking at its best: a big bowl of steaming mussels, cooked natural, Provencal-style, with white wine and cream, or slathered in Blue Cheese Sauce, plus a side of fries.
You'll need a good wine to go with that, or beer, if the Belgian mood strikes you. The guys are pouring Rodenbach and Estaminet (a smooth Belgian pilsner) on tap, plus a huge range of bottled beers, aperitifs, and a well-stocked wine cellar, heavy on French drops.
Keep an eye out for the side-project too: nextdoor there's a small space where the team will be running a takeaway French sandwich bar. Early morning espresso for the early-risers, grab-and-go baguettes and other sweet treats. Ooh la la...
Image credit: Michelle Jarni
---