French Fix
CONTACT
Ph: 0425 423 221

3/221 Queen St
Melbourne , 3000 VIC
Show on map
closed
---
Opening Hours
| | |
| --- | --- |
| SUN | closed |
| MON | 7:00am - 4:00pm |
| TUE | 7:00am - 4:00pm |
| WED | 7:00am - 4:00pm |
| THU | 7:00am - 4:00pm |
| FRI | 7:00am - 4:00pm |
| SAT | closed |
---
The Details
Cuisine
Need to Know
Serving
Coffee
Breakfast
Lunch
Take Away
---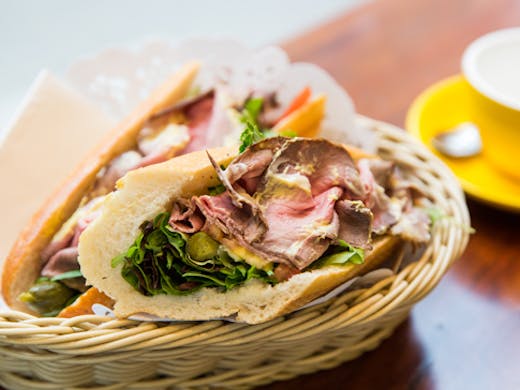 The Verdict
Call off the poodles—we've found the best French baguette sandwiches in Melbourne.
Just to be clear, these aren't 'pretty good' baguettes. They're not 'some of the best sandwiches in the CBD'. These are the pinnacle of sandwich-making technology. If we ever send unmanned spacecraft to the far reaches of the universe in search of alien life, these baguettes should be on board as an example of what humanity is capable of.
CBD drones hike from miles around to visit French Fix at lunchtime (some of them up the vertiginous Queen St hill, which is surprisingly steep). From around 12pm you'll spot the queue forming out the door. When you get to the front (and owner Murielle greets you with a husky 'Bonjour') you're faced with a plain, glass cabinet, inside of which are very simple and beautifully presented ingredients: ham, sliced squares of Emmental cheese, French cornichons, room-temperature salted butter, rare roast beef, spicy Saucisson, chicken, lettuce and a big hunking wheel of brie. That's about it.
From these crude implements, Murielle and her chefs fashion a baguette that is to sandwiches what the Mona Lisa is to paint. The baguettes are cooked on rotation throughout the day—crusty bread-batons, still warm out of the oven, crackly on the outside and fluffy on the inside. Each sandwich costs a cool, round $10 note. They're big though: you could almost use them as jousting sticks.
We've tried each one multiple times, and after extensive testing, it's a very close tie between Le Roast Beef (blushing beef, French pickles, mixed lettuce, tomato, mayo and a tongue-curdling lug of hot Dijon mustard) and Le Normand (ham, mixed greens, tomatoes, Dijon mustard and three massive wodges of brie that have to be seen to be believed). Prepare to have your world rocked very gently.
Image credit: Jenna Fahey-White
---