Fresh Prince Of Baklava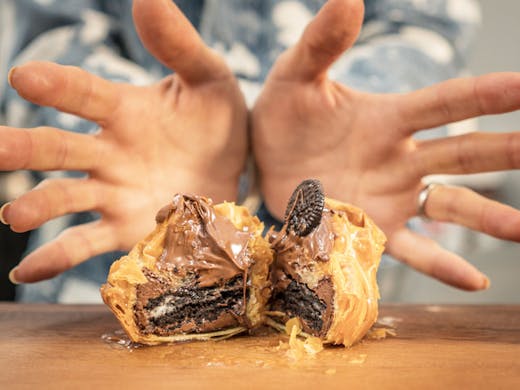 The Verdict
Now this is a story all about how...some guy invented crazy baklava combinations that stretched the boundaries of culinary possibility.
You may have heard about the Fresh Prince Of Baklava, probably in an underground, word-of-mouth sort of way. His name is Walleed Rasheed, and he's built a business that combines traditional, homemade baklava with, oh I dunno, Nutella, Oreos, Tim Tams, Cherry Ripes, Mint Slice (!!) and Monte Carlo biscuits. Crazy, you say? Well there's a fine line between crazy and genius, and Walleed walks that tightrope like a pro.
Fresh Prince Of Baklava is tucked deep inside Port Melbourne's warehouse district, but you might have seen their franken-baklavas popping up at various cafes around the city (Kinfolk and Prospect Espresso are two of the bigger ones). They've got a store in Kensington Market too, plus plans to expand on UberEATS. Which means very soon you'll be able to order Nutella Oreo 'Bakluffins' (that's a giant baklava muffin, in case you were wondering) right to your door.
Walleed calls it a combo of "Middle Eastern flavours and Western indulgence". He had the idea when he was making traditional baklava one day and had pastry leftover...and some Nutella in the cupboard. You can see where this is going.
The important thing to note is that these things are not just a gimmick. Walleed gets the pastry exactly right: fluffy, crispy, buttery and golden. The sugar syrup is sweet, but not sickly. And the flavour combos actually work surprisingly well, even Peanut Butter. If this is the future of baklava, we say bring it on.
Opening hours for the Port Melbourne store are restricted, but you can order over the phone any time.
Image credit: Andrew Englisch
---