Fried Hustle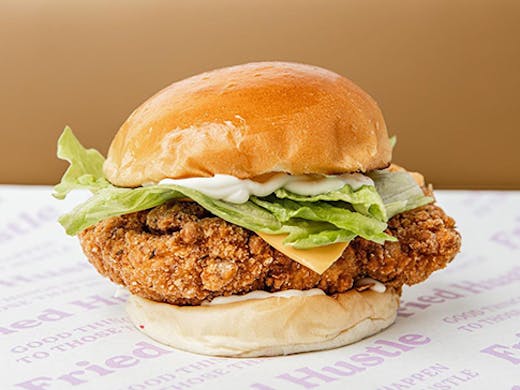 The Verdict
When that hunger hits, nothing quite hits the spot like some no-fuss hot chippies, a big ol' fried chicken burger or a bucket of wings. The all-female identifying team at Preston's Fried Hustle have hit the nail on the head with that formula, offering up a bevy of salty goodness and accompanying treats.
There's a certain nostalgic charm that'll come over you as you enter Fried Hustle, one that channels the vibe of an old school tuck shop, but with the modern sensibilities to win over Melbourne's discerning culinary crowd. And that extends into the food, too.
Up top is their namesake burger, the Fried Hustle, which is stacked with southern fried buttermilk chicken, house-made pink coleslaw, kosher pickles, their own Hustle Comeback Sauce and Jacob's Mayo. It's a hefty affair, but you can dial it to your dietaries should you prefer tofu in the middle of your toasted buns.
All burgers on the menu can be made gluten-free or vegan, like the expectedly spicy Spicy Spice burger and the snugs burger, an unmistakably Aussie number full of beetroot, pineapple and lettuce. Much of the sides fall under the V and GF banners, too, but you don't have to be either to enjoy them—order up on the fried cauliflower stat.
An honourable mention goes out to the loaded nuggets, too, which should be considered a sheer masterstroke of ingenuity from Fried Hustle.
The booze list is at least as fun as the food, with plenty of pet nat and beer, all sourced from local producers. They've got ice cream from Sandwiches from My Two Mums, too.
Fried Hustle is open seven days a week for dine-in, takeaway and delivery.
Image credit: Fried Hustle
---