Gaijin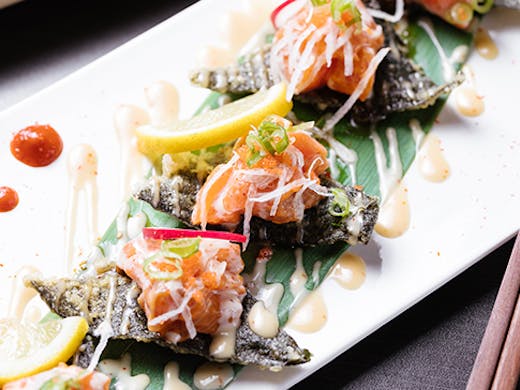 The Verdict
Drop what you're doing, cancel your plans for the week and please take a seat—we've got some news. All-you-can-eat sushi and sashimi has hit Melbourne's streets and workweek dining has never been soy awesome.
Located on one of South Yarra's busiest precincts, Gaijin is a stone's throw away from Prahran Market. Serving some of the freshest fusion sushi on the block, all-you-can-eat sushi and sashimi o-fish-ally runs every Monday to Friday.
Along with silky fresh salmon, kingfish and spicy scallop sashimi, sushi roll favourites include the Spider Vs. Dragon with soft shell crab, tempura crunch and cream cheese topped with seared unagi and teriyaki sauce. There's no need to be Mr rice guy with all-you-can-eat.
Be shellfish with Avocado Delight rolls (they're so ripe) and Baked Dynamite sushi—a California roll topped with diced scallop, crab sticks, spicy mayo, teriyaki sauce and green onion.
If you're the type of foodie with self-control (do these people exist?), Gaijin's a la carte menu is home to tapas, nigiri and a huge range of creative sushi. The karaage (deep-fried chicken pieces served with black vinegar dip) is a chicken dinner winner, while the salmon tartare is a crowd favourite. Chow through Tiramisu Mochi and Green Tea Creme Brûlée for dessert.
Needless to say, the sushi lords have been rice to us this year.
Image credit: Griffin Simm for The Urban List
---