Gelateria Bico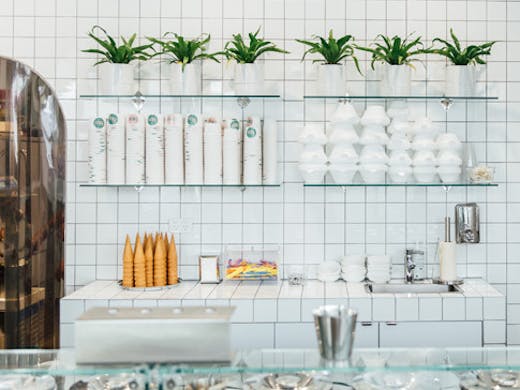 The Verdict
If you've ever complained about the lack of good gelato in the northernmost parts of Brunswick (Zero Gradi is in Brunswick East, so it doesn't count), then your calls have been answered—freshly opened Gelateria Bico is ready to satisfy all your gelato needs and much, much more.
The young blood behind Gelateria Bico is Davide Gaglioti—along with his father Domenico, the pair has spent the last few years studying the art of gelato making in Bologna, Italy. That's right: the father and son duo have both spent some serious time overseas honing their craft, just so they could fill the gelato-shaped hole in Brunswick. And boy, do we love them for it.
Not only are the gelato flavours at Bico are fresh as hell (with the likes of mango, pineapple, citrus, etc.), but the team behind Bico have a special dessert that will completely blow your dessert-craving mind away: Tartufo.
Similar to a chocolate truffle, the Tartufo is a gelato-based dessert ball that combines two flavours of gelato with a creamy or sweet centre. Bico's classic Tartuffo combines hazelnut and chocolate gelato with a chocolate-sauce centre—we inhaled it so quickly, you'd think we hadn't eaten in years.
Besides the scrumptious Tartufo, Bico's also serving up coffee and other classically yummy treats like cannolis, granita (we recommend watermelon), and meringue tarts. So do yourself a favour and get to Albert Street now.
Image credit: Annika Kafcaloudis
---