GG EZ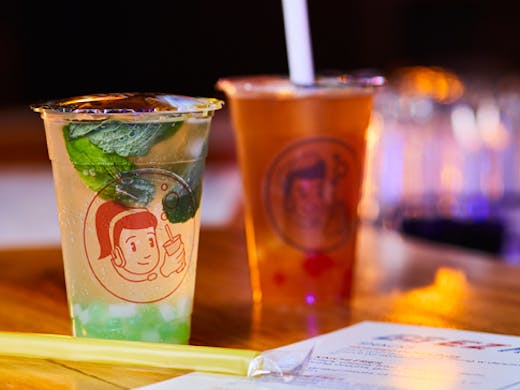 The Verdict
Let's decode the geek speak, to start with. GG EZ stands for 'Good game easy'. It's something you type with a nonchalant smirk after crushing your opponent at a game of DOTA (Defense Of The Ancients), LoL (League Of Legends), or SC (Starcraft). Computer speak is a bit like marketing—you tend to talk in acronyms.
GG EZ is the city's new dedicated eSports bar. You've probably heard that term bandied about. It stands for electronic sports—basically, professional video games. A phenomenon that gathered momentum in South Korea after 2010, and has grown into an extremely lucrative global industry. Teams are now sponsored by McDonalds or owned by NBA teams.
So GG EZ isn't a gaming bar, as such. It's a place you come to watch games. It's the brainchild of Lachlan McAllister, a self-confessed gaming tragic, and the previous co-owner of Lily Blacks, Mr Wow's Emporiums and Pixel Alley.
There have been eSports venues in Melbourne before, but usually the comps are tacked on as an afterthought, or broadcast on flatscreens in LAN Parlous like ZEN Gaming on City Rd. GG EZ is a different beast. McAllister and his wife Justine designed the basement venue from the ground up, and it looks like an American sports bar crossed with Bladerunner. Heavy on the neon and the brushed concrete.
You can get bubble tea cocktails behind the bar (a nod to eSports' South Korean roots), and there's even a bubble tea espresso martini, the eSpresso Cup. Expect frosé to make an appearance when the weather warms up. Until then you've got Coors and Boston Lager on tap, plus a few well-chosen craft bottles.
The food has a deliberate Korean kick. Think Kimchi fries with gochujang mayo and who's who of fried, greasy goodness. Our pick? The LA Kalbi Burger (the most popular thing on the menu): beef patty, smoked bacon, American cheese, pickled red onions and tangy aioli.
See you up at the bar, n00bs.
Image credit: Michelle Jarni
---