Good Gnocchi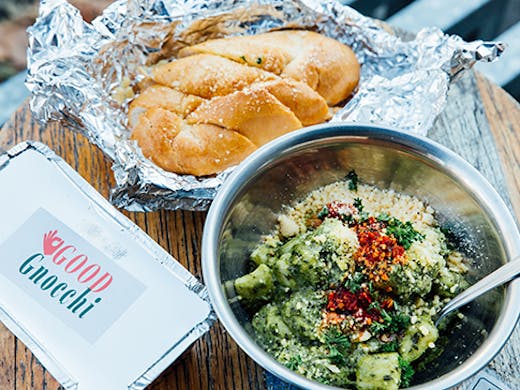 The Verdict
Smashing down a bowl, or tin tray of pasta, from Good Gnocchi is sort of like a rite of passage if you live in Melbourne's North. And now, they're inching ever so slightly towards Melbourne's centre with a second takeaway-only location in Abbotsford, letting Collingwood, Richmond and surrounds into the club.
In what's certainly become a trend in Melbourne's hospo scene, Good Gnocchi focus on a limited menu of around six variations on the pasta dish, plus a garlic bread and a meatball sub on a good day.
You'll find the classics—like Napoli, bolognese and carbonara—all worthy choices for anyone needing a solid carb hit for whatever reason that may be. One such option which is oft-overlooked should be given some consideration; the humble butter sage combines just a few flavour profiles with grace and pairs perfectly with that garlic bread. Vegans can get in on the action, too, with a walnut pesto number up for grabs.
Good Gnocchi's Abbotsford locale is still under construction and is expected to open in the coming weeks for all your carb-y needs.
Image credit: Annika Kafcaloudis
---