Good Times Milk Bar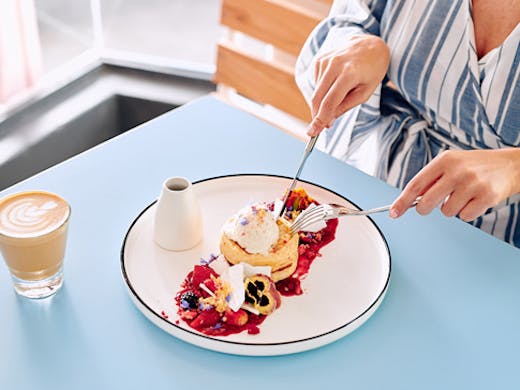 The Verdict
Bentleigh locals, we've got some good news. Good Times Milk Bar is officially open for business, and your Sunday mornings just got 37% more delicious.
Good Times is a brand new, pastel pink, California-style neighbourhood cafe and brunch bar. The site used to be a run-down convenience store, and the team have spent the last few months gutting and refurb-ing from the ground up.
You wouldn't recognise the space now—more natural light than a greenhouse, pops of French blue and flamingo pink, booth seats and banquet tables, boutique greenery from Glasshaus, artwork from Hours After and (our favourite bit) a dog-friendly garden out back, with squishy beanbag seating and lots of sunshine.
The food and drink reflect the space—this isn't about scoring points or looking cool. It's about good times and good coffee. Tuck into a GTMB Beef Burger with beer-battered fries (or crispy potato gems). Smash a plate of ricotta hotcakes, drizzled with berry compote and a meringue crumb. There's an all-day brekky menu (nice) and a few heftier lunch plates from 11am (the Moroccan eggplant with harissa is our personal pick).
For the kiddies? A dedicated kids menu feat. dippy eggs, strawberry shakes and fluffy babycinos by the dozen. Adults, you're getting coffee by Small Batch Roasting Co., including bottomless batch brew filter, chai lattes and tea by Larsen & Thompson. Good Times are also serving up a range of pimped shakes—think Golden Gaytime, Lamington and Peanut Butter for starters.
Mostly though, this place is gonna be about the vibe. That special neighbourhood vibe when you walk in and the barista already knows your order. You grab a paper, splurge on some hotcakes, then kick back in the garden and forget all about the working week.
Places like that don't come along all that often. So Bentleigh, enjoy this one.
Image credit: Simon Shiff
---