Gorilla Grill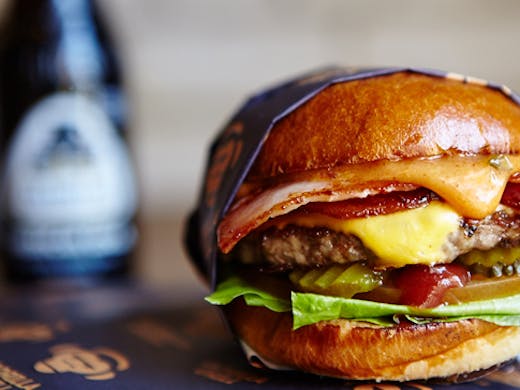 The Verdict
Kimcheese fries and barbeque ribs? Korean classics meet American artery-cloggers at this new venue in Melbourne's west.
After the booming success of Jayda Dinh's food truck, it seems only fitting for his new restaurant to be beholden to the same name. Gorilla Grill has now shacked up in Melbourne's inner west. This snazzy 20-seater restaurant features a wall decked out with Nike Air Jordans, adding to its groovin' street-vibe.
Serving up fried chicken ribs, tacos with a Korean twist, and their Kimcheese fries – Gorilla Grill takes cheesy, oily, goodness to the next level.
Of course, you can just go for the burgers, but even they'll have their Asian spin. Be ready for Korean pork belly, loaded with oozing American cheese. Then there's the classic burgs, which come smothered in Gorilla sauce—sure to get your taste buds going!
For the more serious BBQ bandits, check out Gorilla Grill's slow cooked pork ribs. Served with a side of chips, tey'll have you salivating. And we're positive – you'll be back for more.
Asian fusion has been taken to the extreme, people. So grab your crew and go check out these oil delights. Don't forget the Kimcheese fries.
Image credit: Michelle Jarni
---