Grau Projekt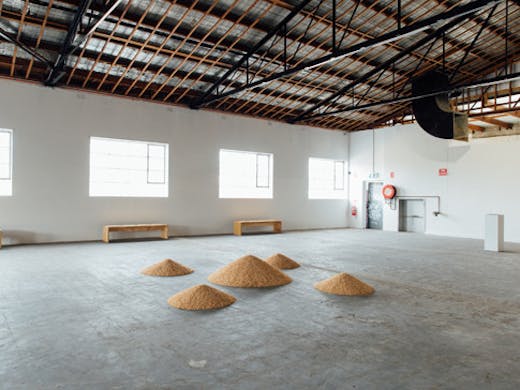 The Verdict
Matt Bax, who gifted us Bar Americano and now-closed Der Raum, recently launched a gallery-bar hybrid, which happens to be our favourite type of hybrid.
Grau Projekt is a 1050-square metre space that has become a stunning hub for local and international contemporary art. But there's a delicious twist: alongside every monthly installation comes a curated five-drink menu that reflects the exhibition's overarching theme.
Here's how it works: you buy a drink token, you pop it in the Trink Automat, you pick your drink, and out comes a refreshing cocktail.
Second delicious twist: the beverages are created by Matt Bax himself and they are mind-blowingly inventive—so don't come in here expecting lazy variations of a rum and Coke.
Let's talk examples, shall we? As part of Grau Projekt's last exhibition (Melbourne-based Ravi Avasti's Little Fleas), Matt whipped up stuff like the Trimurti cocktail: double oaked brandy, port and rye, honey mead drunken apricot, amari, matcha-laced honeycomb and bobbing underneath it all? A perfectly carved piece of green acorn ice.
That's right: there was a freaking delicate piece of acorn inside an ice cube. And it was magnificent.
There was also the Value Of Light cocktail, which consisted of a charred gentle whiskies concoction, awoken with olive oil, champagne, and maple lime caviar. This drink was paired with an LED light box installation reflecting the current time as a value of light—it matched perfectly: light, a little sweet, and evoking just the right amount of existential dread.
Grau Projekt also makes art more accessible by offering a few pieces from each collection at a heavily subsidized price. They'll be held in reserve at public openings, so even if you're new to the art game, you can definitely score something unique.
Pop by Grau Projekt every month for a new exhibition and a fresh new list of drinks—you'll find us by the Trink Automat.
Image credit: Annika Kafcaloudis
---