Green Light Diner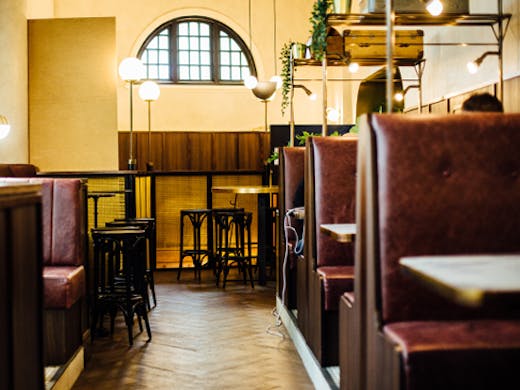 THE VERDICT
Clocks at Flinders St is part of the city's fabric...the city's slightly sticky, pokies, ca-ching ca-ching jackpot fabric. But now we're happy to say they've achieved something miraculous. Clocks is officially cool.
Guys, meet Green Light Diner. Clocks' swanky new all-day eatery.
Green Light is the lovechild of Darran Smith and Steve Schreuder, who wanted something more for the venue than parmas, pints and the sound of illusory jackpots. They wanted to turn Clocks into a place you actually wanted to hang.
With a three-million-dollar refurbishment in place, the newly-opened American-style diner is slinging brekkie sandwiches all day (you heard that right) as well as goodies like salt beef bagels (drool-worthy), coffee (of course) and a mean stack of pancakes (which you can order all day – even for dinner). The bread comes from the guys at Brasserie, so you know it's the good stuff.
To wash it all down, there's a full range of in-house bottled cocktails (think negronis and espresso martinis), with plans for an exclusive whisky bar to open downstairs, pretty much purpose-built for people watching and wearing tweed blazers.
In other news, from June onwards, Green Light is also hosting after-midnight feasts, so those working CBD hospo will have a chance to network and "let their hair loose". This is such a good idea we're kind of annoyed we didn't think of it ourselves.
Want to talk aesthetics? The venue is unrecognisable, built like an old-school 1920s train station. There's also been a real effort to work within the Flinders St vibe, including original windows and elements of brass + copper to polish it all off. Even better, all profits from Clocks (gaming and bevs) go towards the Doxa Youth Foundation. Winner winner.
Clocks, take a bow. You achieved the impossible.
Image credit: Green Light
---
You May Also Like