Greener House Nursery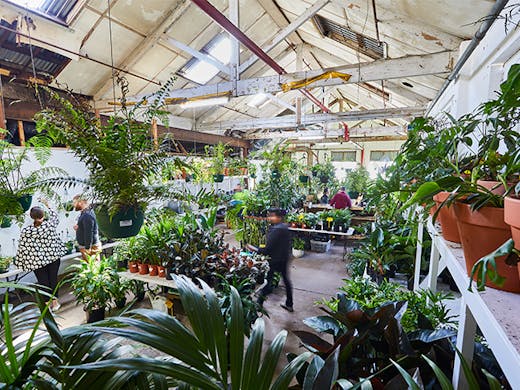 The Verdict
If you haven't stopped by Greener House Nursery on Sydney Road in Brunswick yet you're seriously living your life wrong.
Plants are life and this incredible, abundantly green shop is filled with everything you could possibly want—from everyone's favourites like Monstera and Devil's Ivy to the hardy Peace Lily and Kentia Palm. Plus, it's super close to public transport so you won't have a problem getting your new plant child home.
Walking in, you're instantly hit with room #inspo and before you know it you're leaving with ten pots of Sansevieria (also known as Snake Plant, it's the one that grows straight up and down…like a snake…get it?), a new-found obsession with decorative pots, and a permanent green thumb.
All plants are grown by Aussie farmers so you know where your cold hard cash is going, and every single staff member is a qualified horticulturalist so you know the advice they're giving you is legit. They also offer a design and maintenance service, so if you've got no idea whatsoever about what will look good in your space and, more importantly, how to keep them alive, this is the place to go.
We'll let you in on a little secret, there's also a loyalty club which you can join to gain access to deals and specials before anyone else.
Greener House regularly has weekend sales at their warehouse in Collingwood that'll bring all your plant dreams to life, so the hot tip is to definitely bring some cardboard boxes because you're not fooling anyone by thinking you'll just be walking out with one plant! Their warehouse is only open for events, so stay tuned to their Facebook and Instagram pages for more info.
Stop by soon and you'll be one of the first to check out their new range of homewares, art, design and garden accessories, as well as sip on a cup of Padre filter coffee.
Going to the local nursery may just become your latest weekend ritual, just think of how purified the air in your house is going to be.
Image credit: Michelle Jarni
---