Grub Food Van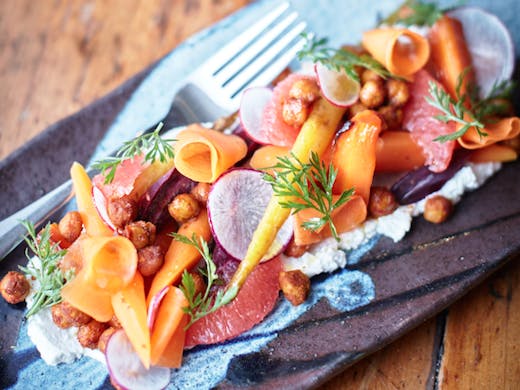 The verdict
Fitzroy cafe and restaurant Grub Food Van is one of the most beautiful spots in the area for anything from a quick coffee, to a full lunch, to an evening meal made from the local area's finest produce. The coffee-serving van itself is a permanent fixture, and the kitchen serves seasonal dishes accompanied by a great selection of local organic sodas, juices, beer and wine, largely thanks to head chef Scott Blomfield (ex-Supernormal) and gardener in residence, Ben McMenamin.
With a focus on sustainability, you can guarantee that everything on the menu at Grub Food Van has been considered, both in terms of flavour and impact. The latest menu sees winter warmers such as baked sweet potato and Jerusalem artichokes served with house-made soured cream, and braised beef short rib with beetroot, horseradish and feta—all of our favourite ingredients in one mouth-watering dish.
Both the outdoor picnic space and indoor greenhouse space are stunning—perfect for groups, an intimate date, or solo dining. Fancy a game of after-dinner ping-pong? There's a table for that too... Winner gets the next round!
Image credit: Grub Food Van
---