Half Acre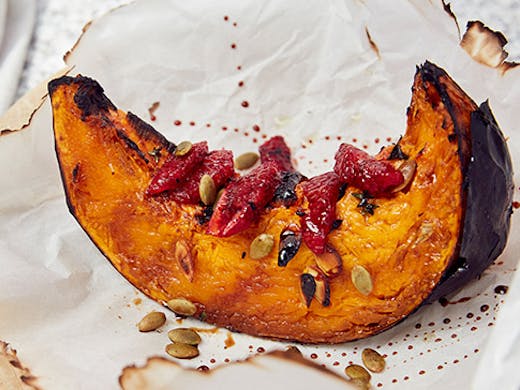 The Verdict
We'll be honest, we drove straight past Half Acre the first time. And the second time too, as a matter of fact. Eventually we had to get out, walk up to the nondescript brick wall and poke our heads through the arched entrance.
Ah yep, we got the right place.
Half Acre might technically be in South Melbourne, but it wears a much more industrial uniform. You'll find it tucked into the warehouse district, near the freeway entrance—just a long, low brick building in a street where you'd usually come to buy paint, pest control supplies, or possibly concrete.
Welcome to the new home of Adam Wright-Smith, Asaf Smoli and Leigh Worcester.
Half Acre isn't taking half measures, Wright-Smith and the crew have designed it to be all things to all people. The space is broadly divided into two: a restaurant space beneath a gabled glass ceiling, and a separate event space for functions, parties and upmarket mingling. It's definitely one of the more stunning spaces to open in 2018.
The food menu ranges from alco-soaking bar bites to wood-fired pizzas. Our top picks were definitely the grilled cabbage with torched goats cheese and chimichurri. Not often we leave a big meal raving about the cabbage, but there you go.
The hanger steak with burnt leeks, stone-baked flatbread with smoked butter and salami pizza were also highlights. Half Acre has gleefully jumped on the current Melbourne trend, which is flame, smoke, fire, coals, embers, wood and things that burn.
Head chef Eitan Doron has built a menu sits somewhere between gastropub and fancy restaurant. But it's not intimidating—most fine diners don't have Carlton Draught on tap (nice touch).
If you want to book out the event space, there's room for 250 punters in there. The guys have already hosted a Grand Final party and a wedding. The sky's the limit really, especially with this ceiling...
Image credit: Half Acre
---