Hanoi Hannah | Richmond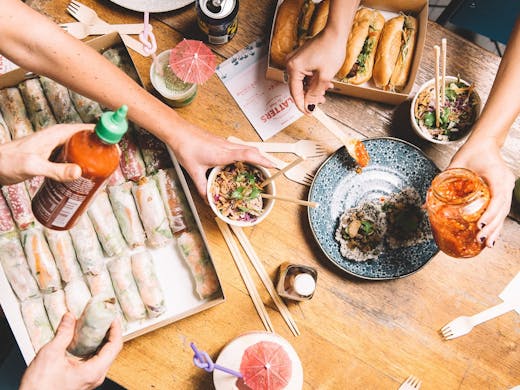 The Verdict
It's finally happened, guys. For weeks we've been peering through the window, crossing days off the calendar, clearing stomach space in anticipation—and now it's officially happened.
Hanoi Hannah has landed in Richmond.
It's actually the brand's first venture north of the river (Simon Blacher and the team also run a Hanoi Hannah in Elsternwick, plus Tokyo Tina, Hanoi Hannah and BKK in good ol' Windsor). RIP Saigon Sally, who left us late last year.
The new digs is called Hanoi Hannah New Quarter, and like most youngest siblings, it's looking to forge its own identity. There's still those chilli-spiked Vietnamese flavours, and a range of grab-and-go rice paper rolls for the Richmond office crowd, but the rest of the menu is pitched a bit higher.
Executive chef Anthony Choi has put together a smart collection: you can start with share plates, maybe a crispy pork belly with Viet chimichurri, or BBQ corn topped with crispy shallots and kaffir lime. If you really want to get the engines started, go the Pho Cuon, a Vietnamese classic—fragrant lemongrass beef wrapped in a thin sheet of rice noodle and spiked with Thai basil.
After that it's on to the mains. Here you've got the choice between ribs and wings, or hefty plates of noodles and rice. The grilled beef ribs with lemongrass 'crack' salt are bloody tempting, but if you're worried your Tinder date will judge the mess, go the Beef Pho instead: a hearty broth, made from braised beef short ribs, oxtail, Sawtooth coriander and Thai basil.
The fit-out at New Quarter is a little different to the old Windsor space. For one thing, Blacher has installed a dedicated window for delivery pick-ups and UberEats drivers. (And if you've ever experienced the helmet-clad chaos that is Chapel St on a Friday night, you'll know how necessary this is). The delivery range is 5km, just FYI, which should get you all the way to Burnley and Hawthorn in the East, Collingwood in the North.
You'll find Hanoi Hannah on the corner of Swan and Lennox Streets, the newest resident in a foodie complex that also includes Laneway Greens and Macelleria. Is it just us, or is this strip getting seriously delicious all of a sudden...
One last piece of advice? Don't fill up on tamarind pork hock or sizzling rockling. The desserts are off the chain. There's a Vietnamese coffee macaroon sandwich on the menu called Tirra-Mi-Sally that you NEED to try.
Image credit: Hanoi Hannah
---
You May Also Like
Food & Drink
Melbourne, VIC
Fans of flavour and seafood feasts, listen up. Louisiana-style Crawfish sensation,…