Harper & Blohm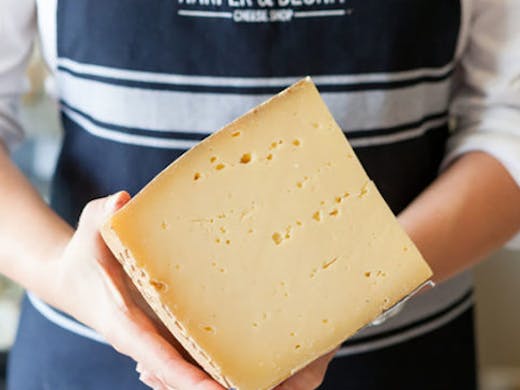 The Verdict
Olivia Sutton opened her highly acclaimed specialty cheese shop, Harper & Blohm, in 2014 to share her love of cheese with Melbournians. Named after the maiden names of her grandparents, Merle Harper and Mona Blohm, the shop was originally located in Essendon, but as of November 2018 has found a new home on Sydney Road in Brunswick.
Sutton—who has worked in the cheese wholesale and retail business for the past fifteen years—has successfully built Harper & Blohm's reputation around its small but constantly changing selection of cheeses—the ever-changing choice of cheese ensures consistent quality, whilst the variety depends on the seasons. The shop also sells charcuterie, biscuits, terrines, rillettes, butter, pickles and some pretty cool cheese boards (so enter with caution and a tight grip on your wallet).
In addition to its charming in-person location, Harper & Blohm began delivering cheese across Melbourne and many regional areas as of last year. So if you need a little nudge to justify your slab of brie, order on Thursdays when there's free delivery across the City of Yarra, City of Moreland, City of Port Phillip, Moonee Valley and Melbourne CBD.
And if you're into in-person cheese ogling, you can drop by Harper & Blohm any day of the week, except Tuesdays.
Image credit: Harper & Blohm
---