Harvest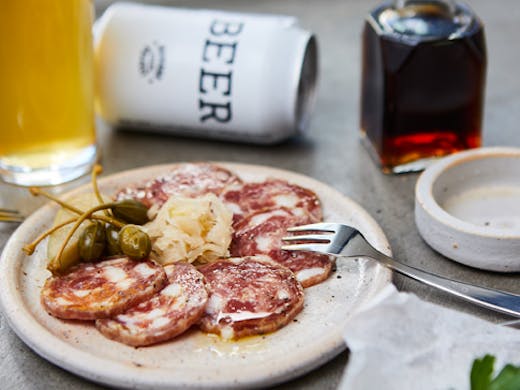 The Verdict
When the 2015 Young Chef Of The Year opens his own digs, you know delicious things are on the horizon. Tim Martin (former head chef at The European) has been plotting his own restaurant venture since business school. Harvest is the result: an all-day coffeehouse and eatery, with a casual, European bent.
Martin hasn't swung for the fences with this one, and that's a deliberate move. Harvest isn't some arty, highfalutin concept bar where you need a waiter to decode your menu. It's more about fresh, seasonal produce, aged meats, fermented goodness and a quirky wine list.
"I imagined Harvest as a place I would want to go," says Martin. "Casual, with simple and well-priced food. I want to provide people with a regular destination to relax and enjoy our artisanal selection of drinks and plates."
How does that translate onto a plate? Depends when you pop by, really. Swing along in the morning and you can tuck into Benedict muffins with brown butter hollandaise and ham off the bone. Lunch will be more substantial protein-punches, like sourdough-battered fish or grass-fed O'Conner's bottom sirloin. Coffee runs all day—a signature blend, roasted locally by One More Cup of Coffee (a little nod to Dylan, there).
After dark, the place morphs into a contemporary eatery, all shared plates and mood lighting. The food is broadly European, and Martin's brought a nose to tail philosophy as well. You can get fried chicken oysters with shaved cabbage, mayo and bocadillo, or tongue 'n' cheek cigars with brick pastry and charred onion salsa. Personally, we're coming back for another plate of the ox tail ragu alla napoletana with bone marrow.
Scott Bailey (ex Borsch Vodka & Tears) is running the bar, pouring a variety of low-intervention plonk (think cheeky drops from Bendigo, Sunbury, and a wicked Cab Sav, all the way from Uruguay). There's also a solid mix of craft beer if your taste runs to grain over grappa. Nice to see long necks making an appearance, too.
Harvest is open 6-days, running from dawn till dusk. Lock it in for your next date night.
Image credit: Harvest
---
You May Also Like