Hattie Molloy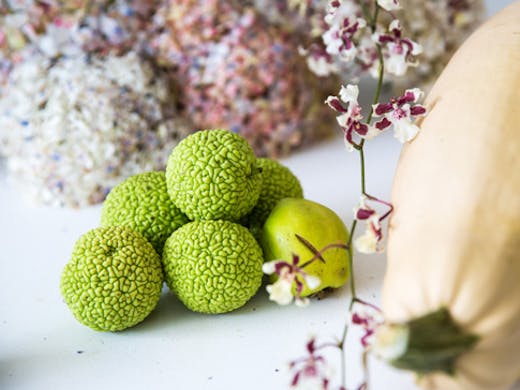 The Verdict
Hattie Molly stormed onto the Melbourne flower scene back in 2015 (oh yes, there's a scene). She used to operate out of a private space on Rupert St in Collingwood, but now she's got her own concept store on Johnston St. And it's looking all sorts of beautiful.
This ain't your Daddy's traditional florist—in fact the first thing you notice when you walk in is the lack of flowers. Instead of loading every available surface with as much foliage as possible, Hattie creates wild and unpredictable arrangements that pop against the whitewashed walls.
It's more like a flower temple than your traditional retail space. You never know what you might find—everything from orchids and carnivorous fly-eaters to squash and banana plants.
Flowers are really just the beginning. You can also pick up ceramics from local makers like Claudia Lau, Sophie Harle and Ella Bendrups, prints of Hattie's own artwork, boutique cards, and unorthodox vases (Hattie has even collab'd with creative beekeepers Honey Fingers to make a vessel out of honeycomb.
Of course the concept store is really more just a sample space. You can pick up pre-made arrangements and some bits and bobs, but it's more about Hattie showing Melbourne the creative boundaries of floristry. Weddings, parties, anniversaries, conceptual plant installations, major events—Hattie caters them all. She can even arrange delivery, depending on your location. If you want to get a feel for what's in store, check out her Instagram.
Bloomin' marvellous.
Image credit: Annika Kafcaloudis
---