Hell of the North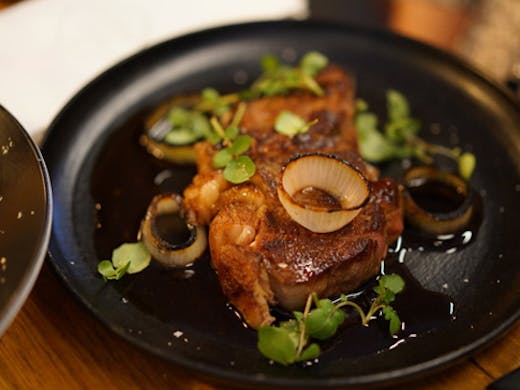 The verdict
You'd totally miss Hell of the North if you weren't looking for it. If you're stuck, try hunting for the canary yellow door. Once you get inside, you're greeted with a cozy wine bistro—all bluestone walls and exposed wood beams—as well as some of the best Australian-French food in Melbourne.
Let's start with the drinks, because you'll want to. The cocktail list is studded with classics, but we're partial to the Bud Burst (vodka, crushed grapes, elderflower, lemon + mint) for something light, or if you're looking for a kick, try out the Corpse Reviver No.2 featuring a strong mix of Gin, Cointreau, Lillet Blanc, Lemon and Absinthe…you might need to revive with some food after that one.
Obviously being a wine bar, the vino menu is extensive (and covers every possible grape), but if you're struggling, you can always ask the bar what pairs best with your meal.
The food menu is small, but mighty (like the best of things) with starters priced $20 at most. The menu is seasonal and is designed to be shared, so grab your favourite group of friends and dig in, with entrees like pork and gruyere doughnuts (hell yeah), pork and veal terrine (scrumptious) and beef tartare (our fave).
If you're feeling like a heavier meal, the Barramundi with prawn bisque, fennel and rouille is rich and flavoursome, and the Milawa Duck breast with braised red cabbage and Madeira just is a stand-out winner. There's also a few delicious veggo options, if you swing that way.
One tip? Save room for dessert. These guys don't mess about when it comes to pudding. There's a few interesting choices, including apples with caramel & sesame and chocolate with yuzu and hazelnut. If you're looking for something more traditional, the crème brûlée is just the right amount of sweetness to end the meal. There's even a bar-snack menu if you're kicking on past 1am.
So treat your friends to the ultimate friend-date (or impress that special person in your life) and head down to Fitzroy. We'll see you in Hell.
Image credit: Hell Of The North
---