Hello Sam | Bentleigh East
CONTACT
691 Centre Road
Bentleigh East, 3165 VIC
Show on map
---
The Details
Cuisine
---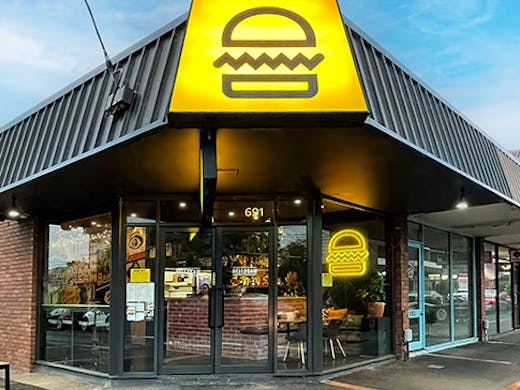 THE VERDICT
The team behind one of South Yarra's most adored burger joint has now expanded to the South East, bringing the bustling Chapel Street vibes local.

Located in Bentleigh East, the second Hello SAM Burger Bar has recently opened, but with a slight twist to its older sibling. The 60-seat diner, designed by Fretard Design, provides an ambient restaurant atmosphere making you forget that usual fast-food setting.
Offering a slightly different menu curated by Chef Stuart Anderson (formerly chef of Chur Burgers in Brisbane), you can wrap your hands around brand new menu creations like the mozza melt, an Angus beef burger oozing with mozzarella cheese, or the chilli chicken, a Szechuan-glazed southern fried chicken burger.
You can still order your Hello Sam classics such as the 'Simply Sam' with a side of animal fries (loaded with bacon bits, grated cheddar cheese, grilled onion and Hello Sam mayo). Additionally, the same plant-based menu from South Yarra is offered so that all of our vegan and vegetarian pals can indulge in the crowd-fave, mushroom Arancini burger.=
Prior to heading in-store, a vital piece of advice is to make sure you leave enough room for dessert, on the cards at the new shop are both handmade choc tops or a hot loaded cookie from the Cookie Dough Co. served with vanilla ice cream and fudge sauce whichmight just be the perfect way to end your lunch, or dinner.
Hello SAM is located at 691 Centre Rd, Bentleigh East. For more information, click here.
Image credit: supplied
---