High Society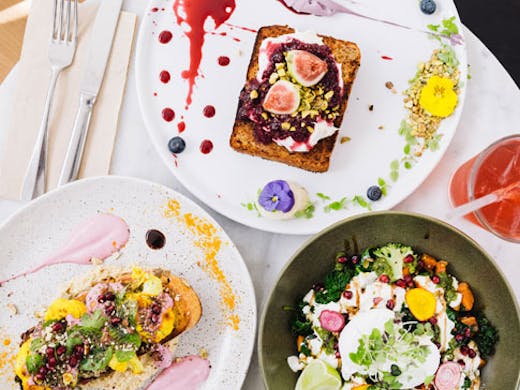 The Verdict
Just when we think we've got a handle on all the really top-notch café in Melbourne, we find a new caffeine wielding venue that has us totally hooked.
The interior has a cosy minimalism. Think plenty of white, great tiling, feature lights, and marble topped tables. Couple this aesthetic with an interesting, inventive menu, you've got an Instagram kween's dream.
Speaking of the menu, we really struggled to narrow down our order, such were the breakfast-y delights offered up. The healthy dishes at High Society are the stars of the show, though certainly not the only options if you prefer something heftier to start your day.
For a healthy treat with a touch of sweet, take a look at the chia pudding—it's served with salty coconut sabayon, fresh mixed berries, orange, and cacao crumble and rose petals. Melbourne breakfasts don't come much prettier.
As far as super salads go, High Society's take on certainly packs a punch—their broccoli, sweet potato and kale super salad with hummus, fetta, pesto, tahini yogurt, almond dukkah and poached eggs is exactly what the doctor ordered.
If you're looking for something more on the indulgent side, we recommend you head for the Golden folded eggs with goat cheese, chilli, smashed peas, avocado and prosciutto on pumpkin loaf—while it's still reasonably guilt free,, it isn't quite as superfood-centric as most of High Society's dishes.
The menu extends to lunch, and includes a perfectly curated selection of dishes that combine fresh flavours and hearty additions such as pulled lamb or pan-fried salmon.
Don't be fooled by High Society's on-point polish, at its core it's as friendly as your local—in the hour or so we were whiling away while we brunched the barista greeted the vast majority of customers by name and had their orders memorized.
Photo Credit: Griffin Simms
---