Higher Ground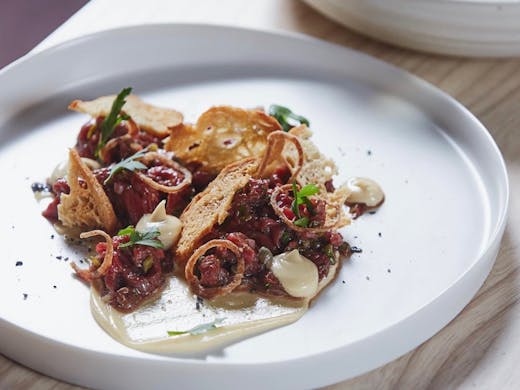 The Verdict
The crew from The Kettle Black and Top Paddock have opened up a new café in Melbourne's CBD, and it's even open evenings! Propped right on the corner of Little Bourke and Spencer Street, Higher Ground is upping the street cred of Melbourne's café scene (not that is necessarily needs to). The café has an industrial feel, with the exposed brick walls contrasting the plants and light wooden tables.
But now to the serious stuff. The menu. Holding true to their signature hotcakes, the team have brought the ricotta hotcakes with maple syrup and fruits straight to Higher Ground. There's also a lamb sausage roll and wagyu short rib roll for those who love their proteins.
For dinner, Higher Ground is taking the same paddock to table philosophy that has served them so well in the past. You can grab yourself some cured kingfish with ponzu, beef tartare, or roasted wild mushrooms with soft polenta.
Their extensive menu ensures there'll be something for everyone – and you'll feel yourself on higher ground just being there!
Image Credit: Higher Ground via Instagram.
---