Highness Cafe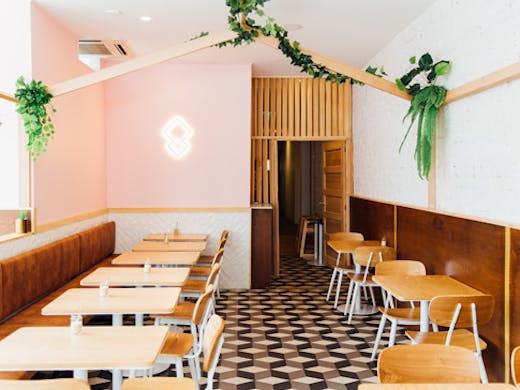 The Verdict
You might've noticed that New York Minute's Brunswick digs just got a new makeover—and no, they haven't rebranded with pastel tones. Newcomer Highness has taken up the very central Lygon Street venue and transformed it into what might just be Brunswick's new brunch hotspot.
Compared to the venue's old black-and-white colour scheme, Highness interior has that airy cafe feel: white walls, pastels and plenty of cute greenery.
But what's most important about Highness is that they're really taking Brunswick's breakfast and lunch scene up a notch. Owners Kohli, Monga and Palmer come from a very extensive hospitality background and it really shows. From the classic smashed avocado with kale pesto to the more intriguing Ciao Bello (Panko-crumbed Portobello mushrooms with poached eggs, harissa sauce, bacon, wilted spinach and shaved parmesan) or the Hash Rash (potato hash topped with pulled pork, anyone?), Highness does not disappoint.
If you're in the market for something sweet, there are honeycomb waffles or Nutella pancakes that have your name all over them. Plus, anything off Highness' extensive dessert menu is available until 10 pm, which makes us wonder: are we in heaven?
And if all that wasn't enough, co-owner Palmer has even dreamed up Highness' own signature coffee roast. It's nice, smooth, and a refreshing change from your typical Melbourne roasts so we definitely suggest you order a cup.
Highness is open every day, and ready to accommodate your stomach's dessert-craving needs until late from Thursday until Sunday. And keep your eyes peeled for a dinner menu because it's coming soon.
Image credit: Annika Kafcaloudis
---