Holey Moley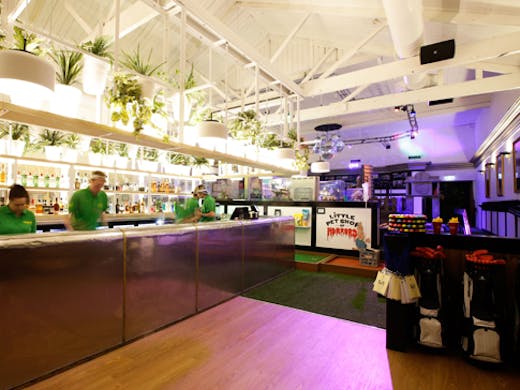 The Verdict
Holey. Moley. Those might be the first two words that pass through your gobsmacked mind on seeing Melbourne's new mini-golf bar for the first time.
To be frank, the space is beautiful: a Willy Wonka-style fun-house from the tortured minds of design team Studio Yeah, is spread over two high-ceilinged levels with a big old airstream bar in the middle. Framed Caddyshack and Happy Gilmore prints hang on the walls, visor-wearing staff circulate with cocktails and a DJ spins tracks from a platform up above like some reincarnation of the 'Derelique' catwalk from Zoolander. Bonkers, people. Bonkers.
Half the fun is just exploring the course, which meanders through the bar, weaving back on itself and climbing over various levels. There's a room where gravity has been reversed, a 3D pac man maze, The Simpsons' own lounge room (an excellent selfie spot), an Iron Throne made entirely of golf clubs, even a creepy graveyard complete with falling mist and stuffed owls. It's fair to say, when it comes to mini-golf, we've left windmills and clown's mouths way behind.
Brisbane is home to the original Holey Moley, but apart from a few iconic holes, the two courses are completely different. Fun Lab (the team behind Strike Bowling) designed this one from the ground up and has plans to expand the concept to Sydney and Adelaide too. Food-wise, you've got the basic food groups covered: peperoni pizza and chips. Cocktails come served in those red plastic cups you've seen in every teen movie ever. We recommend the Teeyoncé Knowles, Holey Moley's spin on the classic Cosmo, but the Negroni also packs a serious punch.
Yep, Holey Moley looks set to become a Melbourne late-night staple. Remember, people, it's all in the hips.
Image credit: Lucas Dawson
---