Holy Crumpets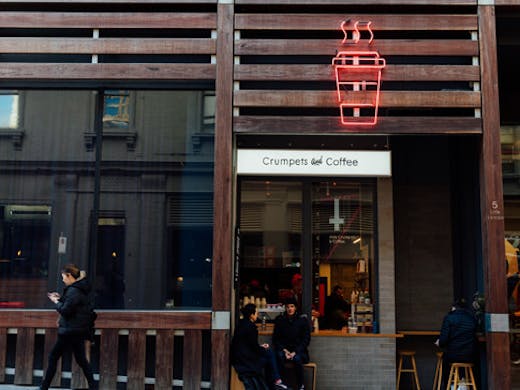 The Verdict
A hole-in-the-wall for the people, by the people, Holy Crumpets is a reasonably priced cafe that is selling the most delicious, homemade crumpets on the block.
What their store layout lacks in size, they make up for in a delicious array of crumpet toppings. The sourdough crumpets, a recipe that's taken many years of trial and errors to perfect, are flawlessly cooked (we're talking crunchy on the outside and soft and doughy on the inside).
Whether you're a savoury crumpet lover or a sweet crumpet lover, Holy Crumpets caters for all. If you want a simple vegemite crumpet, a peanut butter and honey crumpet, or a jam crumpet, you'll be able to find it here. They also have their own unique specials, named Fancy Bois, which are seasonally and frequently rotated, and trust us when we say these ones are to die for. All these flavours and toppings were developed by the owner's, Josh Clements, own experiences, so you know every crumpet will be filled with quality, flavour and expertise.
All ingredients at Holy Crumpets are majority sourced by local producers, bar a few that are nationally sourced. Quality, therefore, is embedded in their produce from the beginning, giving their customers more than they are paying for one $5 crumpet at a time.
This enticing hole-in-the-wall will quickly become your new favourite breakfast spot, and we won't be surprised that you'll soon purposely be missing your breakfast at home so that you can come to visit.
Image credit: Annika Kafcaloudis
---
You May Also Like
Food & Drink
Melbourne, VIC
Fans of flavour and seafood feasts, listen up. Louisiana-style Crawfish sensation,…