Homi Noodle Bar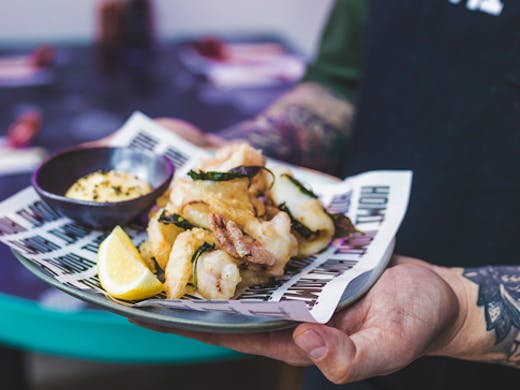 The Verdict
A Vietnamese hip hop noodle joint, from four of Melbourne's most accomplished restaurant pros? Okay, you have our attention.
Melbourne, meet Homi, an ultra-cool Vietnamese restaurant that's popped up on Queen St in the CBD. (If you're wondering about the name, the 'ho' comes from the surname of one of the founders, the 'mi' from the Vietnamese word for noodle. Put the two together, and whadda you got?)
Like Pho Nom, and a few other contemporary Vietnamese noodle joints, there's a grungy street swagger to this place. The fit-out was put together by One Design Office (with a little branding help from Pop & Pac): all raw concrete floors, white tiles, glowing neon and punchy prints, overlaid with thumping hop tracks and R&B melodies.
Founding mates Thomas Ho, Brian Taing, Jason Ngo and Hung Huynh wanted to bring something new to the city's Vietnamese scene. Not an easy task when half of Melbourne has pho hooked up to their veins. That's why you won't see a banh mi anywhere on Homi's menu. Instead there's something different: Bun Cha.
Bun Cha is a grilled pork and noodle dish, popular in Hanoi, and the lads are banking on it becoming the city's new Vietnamese staple. Homi's comes served with Hanoi vermicelli noodles, a crispy pork patty, sliced pork belly in warm fish sauce, plus fresh herbs and a cheeky spring roll.
There's also glass noodles with poached chicken and fungi, an obligatory beef pho (cooked in an 8-hour bone stock) and a Vietnamese panna cotta with dulce de leche and pecan praline for afters. Wash it all down with salted coconut iced coffee or a chia seed lemongrass lemonade.
The ambitious new menu makes sense when you know the guys behind it. Brian runs the famous Workshop Brothers and STN in Northcote. Thomas used to own the family Vietnamese business, Tho Tho, and knows the cuisine inside out. Hung and Jason are responsible for running the show and polishing up the branding. Between the four of them, it's a slick operation.
Image credit: Homi
---
You May Also Like