Horn Please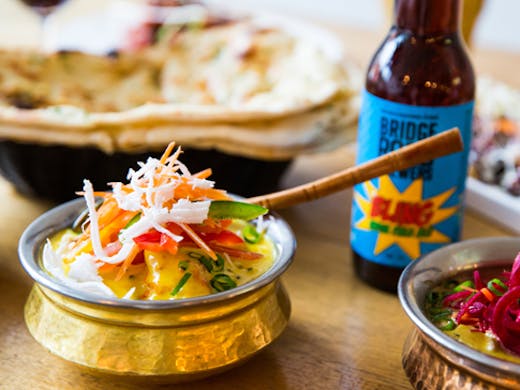 The Verdict
Every Melburnian should know the name of the best Indian place within driving distance of their front door. It's just one of those basic life skills. Sometimes nothing else'll hit the spot quite like a big bowl of goat Bhuna Masala or (statistically more likely) Butter Chicken and an A4-sized garlic naan.
Well if you live even remotely close to 167 St Georges Rd in Fitzroy North, your best bet is going to be Horn Please, a modern Indian restaurant from owner and chef Amarjeet (Amar) Singh. Horn Please is named after the hand-painted slogans that decorate vehicles across India, and has been a Fitzroy stalwart since it opened back in 2013.
Singh's menu is selective, but all your favourites are there. The basic principle is traditional Indian cooking (both north and south) with a bit of a twist. From crispy little 'Gol Gappa' puri all the way up to coconut fish curry with Blue Grenadier and turmeric and tempered mustard seed. Most people are going to gravitate towards the familiar, but we'd recommend experimenting with some of the entrees. The beetroot paneer tikka (beetroot marinated curd cheese, charred to perfection in the tandoor) is delicious as is the crab tikki: golden potato croquettes, stuffed with fresh blue swimmer crab.
A $4 mango lassi is basically a given, but there's also a killer dessert menu (if you're not already wall-to-wall naan). Go the homemade Kulfi ice-cream: a Horn Please specialty that comes in cardamom, Honey & Pistachio or Lychee. Bloody unreal.
Keen to check out Horn Please? Purchase a gift voucher here.
Image credit: Jenna Fahey-White
---