Horse Bazaar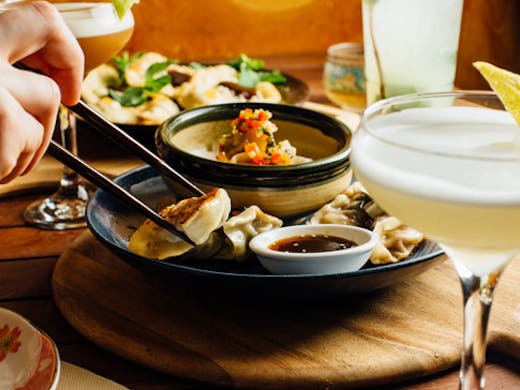 the verdict
Dumplings and massages. Two of our (see: everyone's) favourite things. Not necessarily a classic combination, but you won't catch us complaining.
Allow us to explain: Japanese Izakaya style bar/restaurant/music venue/dream fulfiller, Horse Bazaar, are running a whole series of events set to excite the senses (as if their food didn't do that enough already).
And every Tuesday, that means your choice of three finger-lickin good dumplings for $15 buckaroos, accompanied by a 10-minute massage.
We're not just talking regular dumplings, either. Of course, you can go for the ever-satisfying pork option, but why not try the Crispy Fried Cheese (that's cream cheese and dill fried to perfection)? Add on an Aussie Breakfast—yep, that's egg, bacon and vegemite in dumpling form, and make it a rounded meal with the N'n'N (that's nuts and Nutella—and yes, that certainly is nuts and we're so here for it). Did we mention this event is accompanied by a DJ?
It's clear that Horse Bazaar doesn't take itself to seriously and that means you're in for a seriously good time. These guys are known for pioneering events—in fact they were pretty much leading the charge on those storytelling nights that overtook the CBD a few years ago.
Not wanting dumplings on this occasion? Sounds fake, but okay. There's a wide selection of tasty Japanese dishes to keep you covered, from pork ramen to a soft shell crab curry, a Tokyo 'Tower Power' Burger to Wanton nachos. Yep, they've got a bit of everything (including a whole range of vegan options).
Head down there in the afternoon to enjoy a relaxed lunch with your mates (particularly nice on a sunny day up by the front windows), or get your dancing shoes on for a bit of a boogie in the evenings—paired with a whole heap of funky cocktails, of course. A highly underrated CBD banger.
Image credit: Annika Kafcaloudis
---
You May Also Like