House of Hoi An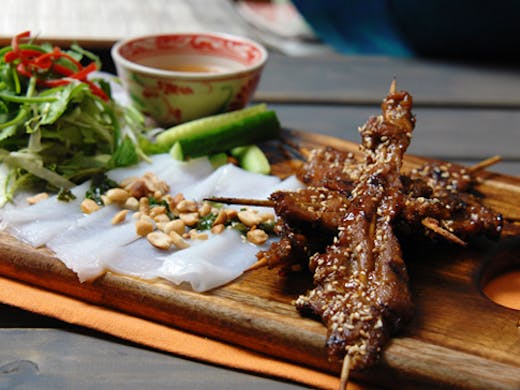 The Verdict
She's not a household name in Melbourne (yet), but Ms Vy is one of Vietnam's most recognised and respected restaurateurs, famed for her Morning Glory restaurant in the beating heart of Hoi An. Now she's hitting the big smoke with her latest venture: an authentic Vietnamese restaurant in the backstreets of Windsor.
The place is called House of Hoi An, which is pretty appropriate. If you've visited the colourful coastal town, you'll recognize the lantern-lit décor, not to mention the dishes. Think Hoi An-style street food like Hoanh Thanh Chien (fried wontons stuffed with fragrant soft-shell crab), Chao Thom shrimp mousse on sugarcane, and crispy Rau Muong Tron salad.
The recipes are traditional, but the presentation is fresh. Ms Vy has even plundered her family staples for some of the larger share plates, including a truly epic Muc Nhoi Tom Thit (chargrilled squid, stuffed with pork mince and spices). When it comes to the mains, don't go past the eggplant claypot with minced pork and spring onion sauce. Hearty, warming and absolutely delicious. We didn't grow up in a coastal Vietnamese fishing village, but if we had, we would have been requesting this guy for breakfast, lunch and dinner.
The best thing about House of Hoi An? Most of the dishes are light, and designed to be shared. So you won't leave feeling absolutely stuffed (unless you go all out and order the Kem Flan crème caramel for dessert, which we highly recommend you do).
Melbourne Vietnamese can sometimes feel like an endless parade of same-same banh mi and pho, so it's refreshing to find a place that specializes in legit Hoi An-style home cooking. Give Ms Vy a try; she might just surprise you.
Image credit: House of Hoi An
---
You May Also Like