Hub General Store
CONTACT
Ph: (03) 9652 1228
Visit Website
36 Cambridge St
Collingwood , 3066 VIC
Show on map
closed
---
Opening Hours
| | |
| --- | --- |
| SUN | 10:00am - 7:00pm |
| MON | 10:00am - 7:00pm |
| TUE | 10:00am - 7:00pm |
| WED | 10:00am - 7:00pm |
| THU | 10:00am - 7:00pm |
| FRI | 10:00am - 7:00pm |
| SAT | 10:00am - 7:00pm |
---
The Details
Hunting For
Art
Books
Food & Drink
Gifts
Interiors
Men's Fashion
Things for Kids
Women's Fashion
---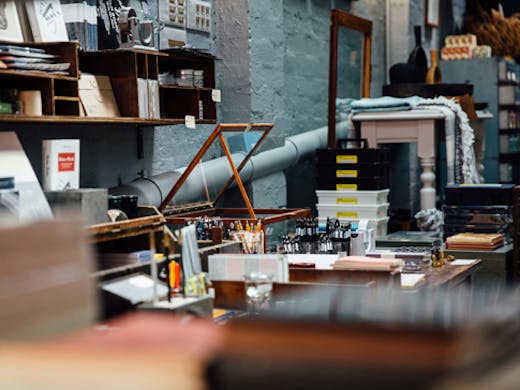 The Verdict
The word 'eclectic' doesn't really do The Hub General Store justice.
We need a new word. A word that somehow captures a place where (if you wanted) you could pick up a birthday card, boutique stationery, a German scrubbing brush, sourdough loaves and a SMEG fridge...upholstered in denim. That is one weird shopping list right there.
Hub General Store is the brainchild of Jacqueline Foti-Lowe, director of the wildly successful Hub Furniture (and sister to Sandra Foti, owner of Piccolina Gelateria—fun fact). Jacqueline has developed a rep for curating high-end designer pieces from all over the world, and now she's taken that aesthetic flair and applied it to something that traditionally has no flair at all—the general store.
You'll find Hub tucked into the warren of Collingwood backstreets, between Smith St and Wellington St. It's a beautiful old heritage building, sloping down towards the lane out back. Jacqueline has stocked every available inch with an array of beautiful and bizarre stuff.
A few examples, chosen at random: a bag of bulldog clips, made in India. A collection of designer Japanese flick knives. Dressmaking pins from Merchant & Mills. Illustrated kids books from authors like Maria Dek. Jars of locally produced honey. Bread. Pencils. Blankets. Jam. Fridges and stoves so beautiful you'd sell all your other furniture just to possess them. A table of periodic elements. Chutney.
Basically—if you know you want something, but you have no idea what that something might be, there's a good chance you'll find it here.
Most of the stock sits on the 'aspirational' end of the price spectrum, but you can pick up the odd bargain. Jacqueline says there are items on sale for as little as $1. Good luck leaving without buying a swag full of stuff. This place is essentially retail porn.
Image credit: Annika Kafcaloudis
---