Humdinger | Frankston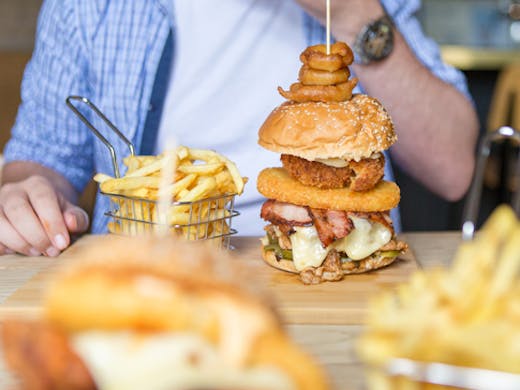 The verdict
Humdinger by name, humdinger by nature. Right next to the Frankston Arts Centre is our favourite bayside spot for hardcore, no-holds-barred dude food. We're talking the cult burger bar, Humdinger.
This place is not your ordinary indulgent foodie joint. It specialises in monster stacks the size of your head (everybody's favourite) and 'big eats' as they call them. We checked—there are no 'small eats' on the menu. It's go big or go home at Humdinger.
Let's start with everybody's favourite—the humble beef + bread combo. The burgers range from mild in size to whopper, you can get everything from the morning brekkie burger (featuring a beef patty, bacon, egg, cheese and BBQ sauce to top it all off), to the 'Humzilla' (hot & spicy southern fried chicken with American cheese, lettuce and tomato).
If you're feeling like a challenge, check out the 'Off The Chain' burg: two beef parries, quadruple American cheese, mac n' cheese slapper, double bacon, onion rings, egg, hash brown, southern fried chicken bits, Spanish onion + mustard and tomato sauce…phew, that was a mouthful. Literally. Our arteries are still recovering from this thing.
If the burgs don't take your fancy, Humdinger also have added awesome bar-style dishes to their new menu, perfect for pairing with your $4 Thursday pot. Think classic Chicken Parma, Pulled Pork Sliders or Dumpster Fries (pretty much some chunky loaded fries with the special secret spice…delish).
If you aren't full to the brim yet, they have a tonne of different sides like deep fried pickles, buffalo wings and cheeseburger rollers. If you want to take something home with you, they've also launched a brand new takeaway menu with all the Humdinger faves and some added extras.
You know where to find us.
Image credit: Burgers Of Melbourne
---
You May Also Like
Food & Drink
Melbourne, VIC
Fans of flavour and seafood feasts, listen up. Louisiana-style Crawfish sensation,…