HWKR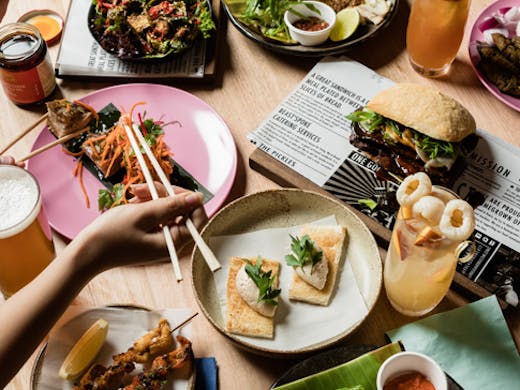 The Verdict
Four amazing restaurants. Two Masterchef contestants. One killer food hall. That's the basic arithmetic behind HWKR, the CBD's new hawker-style marketplace.
There isn't really a concept like this in the CBD—a giant, ultra-mod food court (do NOT let the words 'food' and 'court' put you off), with rotating pop-ups from some of the country's hottest Asian chefs.
There are four tenancies up for grabs at HWKR, and they'll be switching up every three months. For launch, the team obviously wanted to wow the punters, so they've gone with Chanteen (from ex-Masterchef winner Diana Chan), KOI Dessert Bar and Monkey's Corner (from another Masterchef wiz, Reynold Poernomo), Honk Kong's legendary sandwich shop, Bread & Beast (more on this in a sec) plus Khao from the team at Rice Paper Scissors.
Phew. Told you these guys were sh*t-hot.
Craig Tan Architects and BrandWorks handled the aesthetic, which is one part Hong Kong hawker street, one part Bladerunner (note the giant neon emoticons on the back wall). Up front is HWKR's only permanent resident, Manymore—a social enterprise cafe specializing in bubble teas and food-related charities.
On to the food. We could spend all day drooling over the various menus, but here are a few highlights. From Chanteen? Chan's signature satay skewers made daily from 20+ ingredients. For Monkey's Corner? It's gotta be the smoked eel and parsley on toast (fishy, creamy and totally addictive). Khao is mostly about the rice, but try the BBQ pork belly salad with chilli and tamarind dressing.
Last (but definitely not least) is Bread & Beast. Our tip: load up with the Ngua Lam Wich. A 12-hour slow cooked brisket, pickled daikon, spring onion and Chu Hao mayo. We want to marry this thing. Seriously.
CBD corporates, skip the usual lunch suspects and give HWKR a go. You won't be disappointed.
Image credit: Griffin Simm
---