I Am That Yoga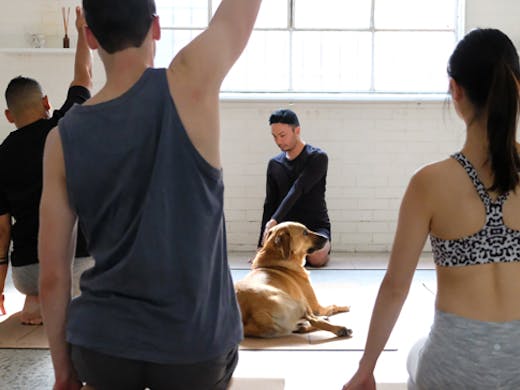 The Verdict
There's a lot of misconceptions floating around about yoga. First, that it's expensive. Something you do before hopping in your Jag and brunching in South Ra Ra. The other is that yoga has become a 'scene' thing: that people are more concerned with 'gramming and #blessing each other than actually tuning out and enjoying the moment.
Well, I Am That in Collingwood is setting out to Downward Destroy those stereotypes, one class at a time.
It's a new yoga studio that popped up in Feb this year, tucked into Collingwood's industrial backstreets. But the brand has been around for a while. It's the brainchild of Melbourne-based yoga teachers Victoria Csarmanns and Sebastien Nicolas. They wanted to open a laid-back studio where people of all backgrounds, fitness levels, and knee-touching-abilities could mingle and chill.
If it's your first time, swing by for a Community Class (cash only, pay whatever you can, all the money goes to the teacher). They also offer the full yoga suite: restoring Hatha yoga, guided meditation sessions, mellow flow classes, even candlelight yoga night (taught at a balmy 27-degrees). Check out the full range here. You can BYO mat or rent one for $2 at the studio.
The studio itself is everything you want from yoga north of the Yarra. White-washed bricks, high windows, industrial ceilings, mellow tunes and friendly instructors. There's no ego at I Am That. If you're here to score points, take names and check yourself out in the mirror, this might not be the one for you.
Keep an eye out for the I Am That Open Days too. The first one is coming up on 14 June. Victoria and Sebastien are offering free yoga classes, meditation sessions, consultations, snacks and an afternoon pop-up market. The day kicks off with Vinyasa at a sprightly 6:30am and runs all the way through to Candlelight Yoga at 8pm.
See you on the mats, guys. Namaste.
Image credit: I Am That
---