iFLY Melbourne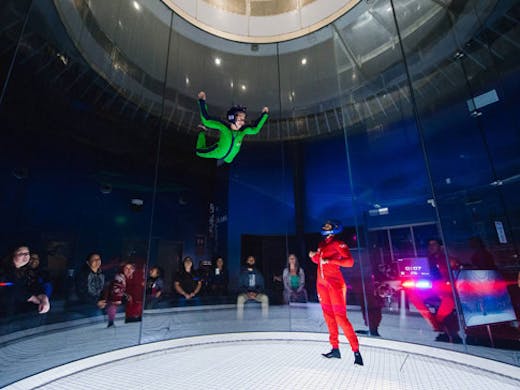 The Verdict
iFLY, the American extreme sports company, has opened its slick-looking indoor skydiving centres across the world and just brought their revolutionary concept to Melbourne.
The facility comprises of a centralised 14ft (3.65m) diameter-wide vertical glass wind tunnel that creates a freefall sensation very similar to jumping out of a plane (without the risk of actually jumping out of a plane). There will be plenty of highly trained instructors to keep all your anxiety attacks at bay; however, if soaring in a vertical wind tunnel isn't your cup of tea, the centre also provides a swish viewing platform for you to watch friends and family take to the skies.
iFLY welcomes flyers of all abilities, from ages 3 to 103. And don't worry: you'll get to learn all about the basics of indoor skydiving before you actually hop into the wind tunnel and say bye-bye to gravity. iFLY will provide you with all the gear you need, so all you have to do is just bring your responsible adrenaline-craving self.
Image credit: Adrenaline
---