ima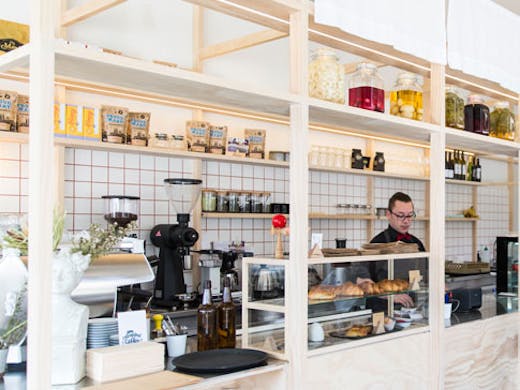 The Verdict
We'll admit it, we're suckers for a good Japanese cafe.
Japanese cafes are definitely the 'Mexican taqueria' of 2018. Melbourne's quietly obsessed with them. We've seen a bunch pop-up over the last year or so, each one looking like it's been warped straight from the pages of a Murakami novel (if you're keeping score, Hibiki is probably our favourite).
But ima (always lower case) gives even the best of them a damn good shake. This place has opened on Elgin St in Carlton, and it's serving up something new for the area: restaurant quality Japanese...for brekky. What an unbelievable idea.
The menu at ima is broken into brunch (running all day) and lunch (served from 11am). If you get in early, the best intro to the brand is the 'Japanese Breakfast'—a simple platter of grilled market fish (blackened on the hibachi grill), rice, miso soup and pickles. You can even whack an egg on for $3.50. It's actually an amazing way to start the weekend, washed down with sencha green tea or blended Beet Takeshi juice.
For lunch, it's hard to go past the Curry Rice. A slow-cooked Japanese curry that makes your toes glow, served with beef, white rice and pickled ginger. The Okazu sides are a bit like your regular cafe's tomato ($3), bacon ($5) or avocado ($1m), but instead you can add on treats like miso-grilled eggplant ($45), green beans with sesame dressing ($4) or hibachi-grilled fish ($6.50).
One last tip on the food, if you're getting a bowl of rice at any stage, get the team to add an 'Onsen' egg on top—that's a gooey 60-degree poached egg, which splits and coats your rice in yolk magma. Takes the whole thing to the next level.
The design at ima is exactly what we've come to expect from the whole 'Japanese cafe aesthetic'. The branding is bubblegum cute (seriously, check out the decal on the front window), and inside it's all soothing curves, specials on butcher's paper, and blonde timber scaffolding.
Image credit: Jenna Fahey-White
---
You May Also Like