Industry Beans
CONTACT
Ph: 03 9417 1034
Visit Website
Online or
70-76 Westgarth Street
Fitzroy, 3065 VIC
Show on map
open
---
Opening Hours
| | |
| --- | --- |
| SUN | 8:00am - 4:00pm |
| MON | 7:00am - 4:00pm |
| TUE | 7:00am - 4:00pm |
| WED | 7:00am - 4:00pm |
| THU | 7:00am - 4:00pm |
| FRI | 7:00am - 4:00pm |
| SAT | 8:00am - 4:00pm |
---
The Details
Cuisine
Serving
Hunting For
---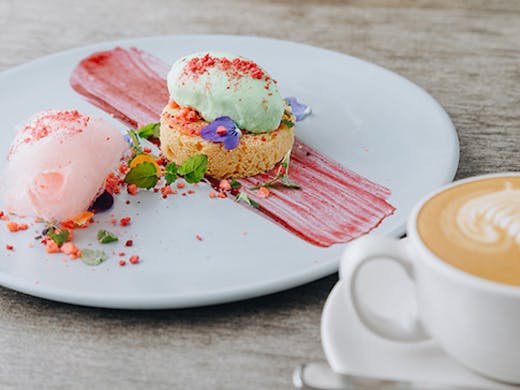 The verdict
Editors note: Industry Beans is currently renovating their new space but in the meantime, you can grab their knockout coffee and pastries from a pop-up just a few doors up at 70-76 Westgarth Street in Fitzroy.

Melbourne coffee roasters Industry Beans celebrates expertly prepared coffee, contemporary cuisine and cutting-edge design all under one roof. Opened in 2013, the premises' Fitzroy roastery is somewhat of a coffee mecca, serving some of the best coffee in Melbourne, whether you're a fan of espresso, pour-over, aeropress, or cold drip.
Industry Beans serves brunch in Fitzroy to those with an eye for detail and an appreciation of the finer things in life. Having been named the best designed café in the world in 2014, everything about the Fitzroy roastery and cafe feels considered and welcoming.
The open kitchen at Industry Beans prepares some of the most delicious brunch in Fitzroy. With a menu that's centred around the idea of 'brunch reimagined', each and every dish is a unique experience. Creative techniques that borrow from molecular gastronomy without the hipster snobbishness, and fresh ingredients that include fresh fruits, edible flowers, local meats and house baked breads make for a winning Fitzroy brunch spot—we can't get enough of the Fruit Sashimi and truffle-dusted Porcini Egg! Their latest creation is a delicious coffee bubble cup—Fitzroy Street Blend cold brew, condensed milk and coffee-soaked tapioca, just like a bubble tea!
Fancy starting the day with some of the best coffee in Melbourne, but can't make it to the Fitzroy roastery each morning? Industry Beans Lt. Collins is their Espresso Bar in the CBD, and Industry Beans also wholesale and deliver their coffee nationwide to homes, cafes, restaurants and workplaces. You can order your favourite blend online via their website. We'd love to tell you that you can order the brunch for home delivery too, but unfortunately they keep that for the locals—stop by the next time you're in town and team a delicious meal with some of Melbourne's best coffee, freshly brewed by Industry Beans' passionate experts.
---