Ines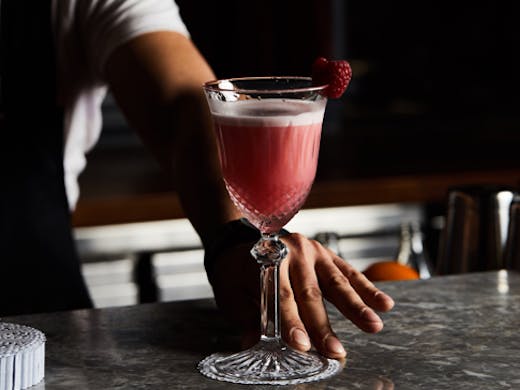 The Verdict
Phwoar. Just pause for a moment to let the classiness waft over you. Because this place, right here, is genuinely stunning.
If Ines Wine Bar was on The Block, the judges would lose their sh*t: they'd be gushing over the tasteful blue suede lounge chairs, the slightly retro walnut finishings, the Waldorf Astoria lamps and rippling Italian marble bar.
Hospo pro Matteo Bruno has built something truly speccy with this place: a 1920s, Euro-style wine parlour that's already leapfrogged into the title of Most Charming Venue In Windsor. AKA the Tinder Slam Dunk.
Let's start with the kitchen. Ines is dishing up impeccable pan-European noshing, including grilled Bisteca eye fillet with tarragon butter, veal & porcini meatballs on creamy polenta, baked goats cheese encrusted with pistachios and Wagyu Tonnato with tuna mayonnaise and fried capers. Combined with Frank Sinatra on the jukebox—you feel like you've stumbled into the Thomas Crown Affair. It's Ritz and Glitz with the dial cranked.
Pro tip: the tiramisu is so sinful it'll send you running to your local padre for absolution.
Thirsty? Sommelier Raffaele Mastrovincenzo has hand-picked a very extensive cellar. 80+ wines, mostly from France and Italy. He's even running a Coravin system (basically you can tap bottles without removing the cork). That means you can access the top shelf stuff by-the-glass—very handy for the budget conscious.
Stefano Cinelli is handling the bar, mixing a variety of classic cocktails. This isn't the sort of place where you order some flaming pineapple under a cloche: you sit on the leather lounges with your Gimlet or Old Fashioned and let Old Blue Eyes croon you back to a simpler time. When doctors smoked and everyone had class.
That's what Ines does—sucks you out of the present. It's high-brow escapism at its best, and we can't get enough.
Image credit: Griffin Simm
---