Instea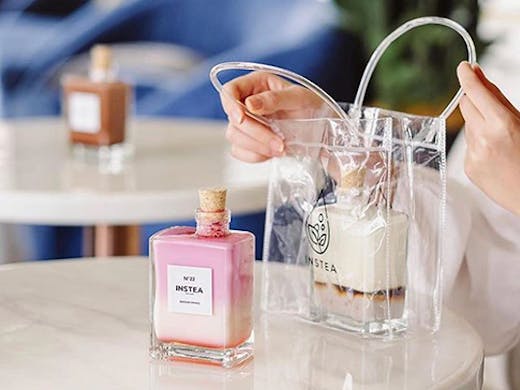 The Verdict
If you're planning to win over Melbourne's discerning tea fans, you're going to need a brew that looks as beautiful as it tastes. Malaysia's Instea has nailed that formula, and are coming in hot—or ice-cold—with a brick and mortar store opening on Swanston Street.
On the menu, you'll find classics like pearl milk teas, a matcha-style tea and tea loaded with fresh fruit. For the traditionalists, there are also several pure brew black or green teas.
Sure, they're all worthy of waiting in line for, but Instea really comes into its own with the signature creations, like the mango coffee and Ovaltine cocoa number that's topped with what looks like a miniature fried egg, though it's actually made from a sweet cheese mix.
Unlike a lot of other tea takeaways around Melbourne, Instea offer a lot of their drinks in take-home, glass bottles—a great option if you're wanting to save some for later, and to glow up the aesthetics of your kitchen.
Instea is planning for CBD delivery by late September, and suburb delivery before the end of the year. In the meantime, drop past their Swanston Street locale for the official opening on Saturday 19 September.

Image credit: Instea
---