IPPUDO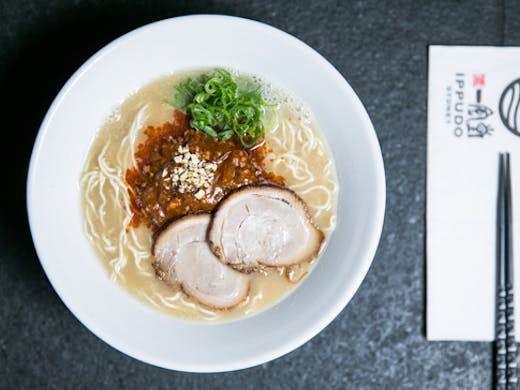 The Verdict
As far as ramen news goes, this is huge.
Sydney has been smugly slurping IPPUDO ramen for ages. In fact there's even an IPPUDO restaurant in Perth. For years, Melbourne watched on, envious, quietly fuming. But no more, baby. Now we've got an IPPUDO all of our very own, and you'll find it on Artemis Ln in the CBD.
If you haven't heard of these guys, they've built a cult following on the back of bowls like their Shiromaru Motoaji tonkotsu ramen. Quite a mouthful, in more ways than one.
This is one of IPPUDO's signature bowls, recommended for all first-timers. Picture a creamy tonkotsu broth, a secret dashi, thin, straight noodles, tender slices of pork loin chashu, bean sprouts, black fungus and spring onions. The adjective 'porky' gets thrown around a lot in ramen circles, and this bowl is 'porky plus'.
The space itself is massive (100+ seats), but it's not meant to be a grab-and-go ramen experience. Manager Alvin Gani wanted it to be a slower meal, something you savour, which is why the décor feels more considered than your classic slurp-and-run. Futuristic curves, brushed stone, timber lattices and pendant lights round out the aesthetic, with pops of red to keep things funky. It wouldn't look out of place in the backstreets of Shibuya.
As for the menu, there's your standard range of ramen bowls (the spicy Karaka-Men is particularly good), but don't be shocked to see very un-ramen like entrees flying through the pass. Ebi guacamole dip with gyoza tortilla chips, lightly pickled slices of chilli cucumber, even a wicked BBQ pork bao with umami sauce (highly recommend).
Ramen fiends, get ready to queue. This place is already drawing some serious crowds.
Image credit: Simon Shiff
---