Isan Soul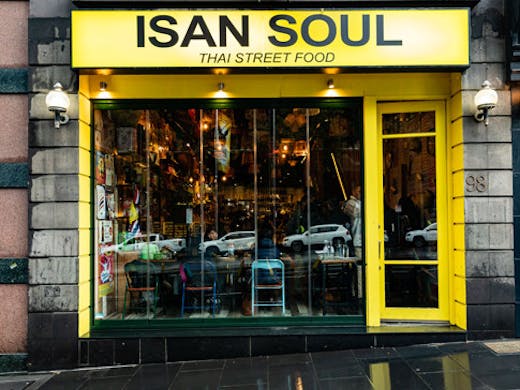 The Verdict
Isan Soul is your perfect Thailand getaway right in the heart of Melbourne's CBD. This place is an absolute killer, and we've never seen anything like it.
Upon stepping inside, you'll be transported into bustling Thailand; more specifically, the home of what could be an eccentric Thai Grandma who runs a family restaurant on a loud and busy side street. This is truly the appeal of this place; the feeling of being immersed in another world—and this world is an enchanting one.
For food, we've tried it all and it was truly a delight. For starters, try the colour-changing drink and Thai milk tea (a classic). For entrees, we recommend the crispy fish ball skewers with sweet chilli sauce or the spicy pork salad with sticky rice. Another stand-out was the chicken skewer which is made as a homage to street food vendors in Thailand. Isan Soul even imported a special skewer with which to grill the chicken, that you can only get in Thailand. The commitment is real.
For something more substantial, our fave picks are the sweet and sour Tom Yum seafood broth or the creamy soft shell crab in curry sauce. If you're into spice, we think you'll really like the Prikking crispy pork with greens and dried red chilli paste.
Do note though that Isan Soul gets particularly busy around lunch hour; the whole place is full of business types wearing suits and side-satchels. If you don't mind the hustle and bustle though, even better.
Image credit: Mel Desa
---