Ivy Muse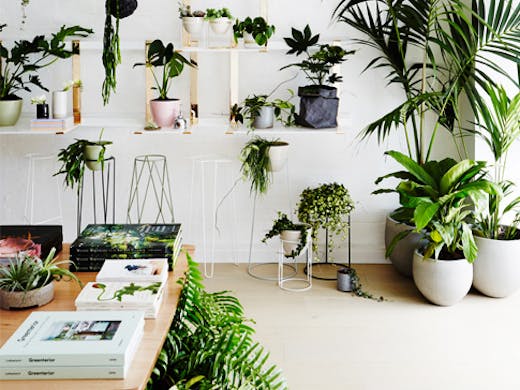 The Verdict
It's the eternal struggle. Obviously having living green things in your apartment makes you look like you have your life together. They're cool and trendy, and they oxygenate things. But they also tend to die slow, wasting deaths, despite your best efforts in palliative health care.
Well don't worry, serial plant killers, Ivy Muse is here to help.
This place describes itself as a "botanical emporium", which is pretty appropriate. 'Plant shop' just wouldn't do the place justice. It's the creation of long-time friends Jacqui Vidal and Alana Langan, who saw a gap in the market for designer plant stands...then filled it.
The result is one of the most beautiful indoor styling stores we've ever seen. Seriously, this place makes you want to live your life like the interior spread of Architectural Digest.
These stands are hand-crafted and look stunning, but they serve a practical purpose too. Vidal recommends them for people who want to save floors and tables from water damage, prevent pets from eating their greens, or just de-clutter surface space. The store specialises in plant holders, but there are a few plants for sale too (except for the 10-ft black-bean tree—it took five people to shift the thing and Vidal says it isn't going anywhere).
Ivy Muse also stocks a curated selection of ceramic homewares, pots, jewellery and other accessories from brands like Wingnut & Co and Studio Twocan. #Interiordesigngoals smashed.
Best news yet? Ivy Muse's new SS19 collection is out. In the plant world, this is the same sort of excitement you get when Gorman announced a new artist collab. The new collection is called Lucid Fields, and it features brand new metal-spun indoor/outdoor pots, wall planters, and handmade pots from potter Robert Gordon.
The new collection takes the brand into some new colour territory. There's wine-y claret and calming sky blue, plus lavender, soft greys and the ever-popular brushed blacks and whites.
"We wanted to celebrate the natural brilliance of plants in all their glory," explains co-founder Jacqui Vidal. The other half of Ivy Muse, Alana Langan, chips in, "'Lucid Fields' is really about showcasing greenery, celebrating their myriad of benefits and ultimately letting them do their wondrous thing."
Wondrous is the right word. These planters are sexy as hell.
Image credit: Ivy Muse
---