Joe Taylor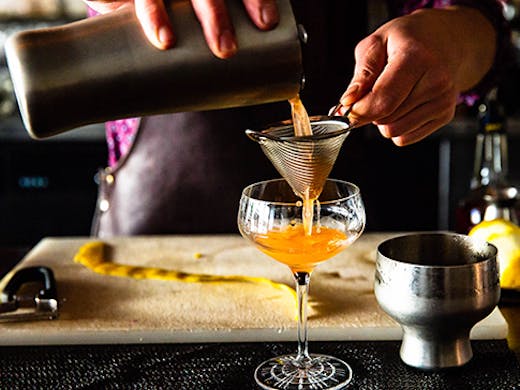 Joe Taylor sits one what could be Melbourne's most beautiful strip—the highly underrated corner of Errol St, North Melbourne, just near the Victoria St intersection.
You'll find this low-key cocktail bar smooshed between two other classics—Oskar Pizza and Hot Poppy. All three share that classic, heritage exterior, and in Joe's case you can see the words write-large about the door.
This was an old tailor in the early 1900s, but you wouldn't know it now. The fit-out screams Northside wine bar—big, chunky high top tables, dark bar stools, a polished terrazzo floor and an entire wall of booze running down the left-hand side.
This place been a favourite with North Melbourne locals since opening as a pop-up back in 2013. That's down to a few factors. One is the staff—they're hilarious and friendly, and most cut their teeth at Melbourne's premier cocktail bars (The Toff, Cookie, Ferdydurke etc).
Second, the menu. Bar snacks range from very spreadable good liver pâté, all the way up to pork croquettes with tomato foam and a monster 750g rib eye, still moo-ing on the bone (that one's designed to share...unless you're an absolute hero).
Our pick? The cheese boards—the crew here import some really interesting cheeses from Piedmont, Oregon and Rhône-Alpes, plus some up-and-coming homegrown stuff. Prices start from around $13, and that comes with a selection of fresh-baked bread. The perfect friend for a classic cocktail.
And when it comes to cocktails at Joe Taylor, it's usually best (again) to trust the staff. There's two pages of mixes to navigate, and they'll be able to direct you to something that suits your taste.
Keep an eye out for the new special too: The Regal Banana. It's banana skin-infused bourbon with lemon, Regal Rouge dry vermouth, peaches and thyme. Easily one of the best cocktails we've tried north of the Yarra.
Next time you're in North Melbourne after dark, swing by this place. We promise you won't want to leave.
Image credit: Helena La Petite
---