Johnny Pump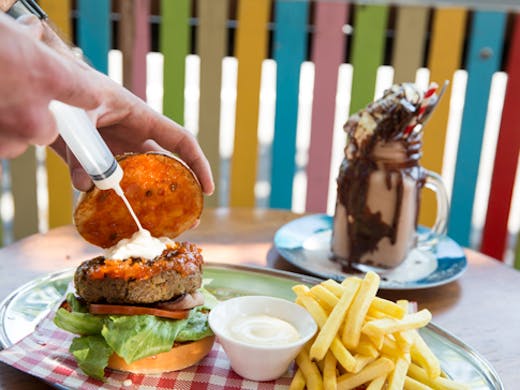 The Verdict
If you're on instagram, there's a good chance you've already spied Johnny Pump's dessert shakes – they're those crazy-looking shakes that have had all kinds of delicious treats added to the top. Though there have been a few imitations pop up around Melbourne, Johnny Pump was the original purveyor of the dessert shake – and the best.
An Essendon favourite, Johnny Pump is everything you could possibly want in a local café: It's friendly enough to feel like a second home, yet has enough seating that you know you'll always be able to grab a spot to kick back and enjoy your morning coffee. Don't be deceived by the cosy front room - there's a lovely restaurant area out the back too, that's been sympathetically designed and has a relaxed feel.
With a firm focus on the quality of ingredients used, those famous shakes are created using as many fresh flavours as possible, to create a perfect balance. Our top pick is the peanut butter, butterscotch, nutella and fairy-floss concoction – it's got to be tasted to be believed, and is well worth travelling across town for!
More than just a one-trick pony, Johnny Pump also offers up a stellar regular menu. As a day-to-night venue, it transitions through out the day - the breakfast menu has a solid list of favourites, while the lunch the menu offers up some delicious gnocchi dishes, salads, and sandwiches. In the evening you'll find the menu has an Italian bent, with plenty of pasta, gnocchi and risotto options.
And the best bit? Johnny Pump has an all day liquor licence! See you there, listers...
Image credit: Jenna Fahey White for The Urban List
---